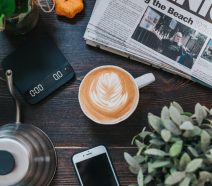 A new look for Pinterest, changes to Instagram and big British brands gearing up for the Festive Season: Here's a short roundup of some of the top marketing and social media stories to emerge in November….
John Lewis Christmas Advert
For the first time ever, partner brands, John Lewis and Waitrose combined their creative Christmas campaign efforts to create the most highly anticipated advert of the year.
The heartwarming tale follows a young girl named Ava and her friend Edgar the 'excitable dragon' as they try to enjoy some festive activities in the run up to Christmas. However, unable to contain his excitement, Edgar finds it increasingly hard to control his instinct to breathe fire which leads to him melting snowmen, frozen lakes and destroying the village Christmas tree. Worried he will ruin things further, Edgar shuts himself away until Ava manages to coax him out by presenting the perfect present: a Christmas pudding. By lighting it up, Edgar gets to play a unique role in the spectacular village feast and is welcomed back by all.
According to Chris Inglis, partner and customer director at John Lewis & Partners, the Edgar storyboard was a unanimous decision because it brought together the tearjerker, gifting element of John Lewis and the humorous tone of Waitrose.
The campaign will come to life across stores in the form of a cuddly Edgar toy, a storybook, pyjamas, wellington boots and cupcakes. Across social media, a snapchat filter has been created that consumers can use to transform themselves into Edgar and an Edgar emoji will be available on Twitter until the 25th December.
Pinterest rolls out a new look
Pinterest has officially announced that it will be updating its design in a bid to make it more visual on iOS and Android. The most obvious change is that the space around the pins is now smaller and less cluttered, but other changes include a re-organised navigation menu and an improved Profile and Board view to make it easier for users to view the pins that they've saved.
The update is designed to accompany Pinterest's business profile, which was launched in September and also includes a 'shop' tab. By enhancing the visual layout of the network, corporate users will be able to showcase their products and services in a better light.
Instagram announces global expansion of hidden likes count test
Earlier this year, Instagram began a trial that involved making like counts private for a number of users in Canada, Ireland, Italy, Japan, Brazil, Australia and New Zealand. On the 14th November, a week after the platform announced that the trial would also be expanding to include the US, Instagram revealed that the trial was now going global.
The change initially came around because Instagram has been linked with poor mental health in a number of studies which claim it has negative implications for depression and anxiety. By removing likes, it is hoped that the importance users place in receiving validation for their content will be downplayed and instead, the focus will shift to just posting content they enjoy.
Reception to the changes has been relatively mixed with some praising the move and others, such as those who have come to rely on the platform for income, arguing that the change will negatively impact their work. This is largely due to the fact that companies often look at likes to judge how successful a campaign has been.
M&S launch Spotify playlist
Retailer M&S has teamed up with music streaming service Spotify to launch its 'Go Jumpers' playlist to accompany their Christmas advert of the same name. The advert – which was directed by 'Single Ladies' director, Jake Nava – features people across the UK dancing to the song 'Jump Around' by House of Pain while wearing festive knitwear.
The M&S clothing and home marketing director said : "The music was a large part of this ad so we thought what better way to build further engagement with busy families than with our very own 'Go Jumpers' playlist. We want to see the nation going jumpers this Christmas – buying knitwear and having a bit of fun."
---
Want to create a buzz about your brand or business? Get in touch with fatBuzz to find out how we could help you share your message.