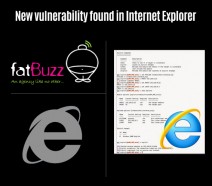 In the last few days, Microsoft have confirmed a vulnerability in their packaged web browser Internet Explorer. The vulnerability covers all versions on all Windows operating systems, so if you're using IE then you are currently susceptible to exploitation.
"The vulnerability is a remote code execution vulnerability. The vulnerability exists in the way that Internet Explorer accesses an object in memory that has been deleted or has not been properly allocated. The vulnerability may corrupt memory in a way that could allow an attacker to execute arbitrary code in the context of the current user within Internet Explorer. An attacker could host a specially crafted website that is designed to exploit this vulnerability through Internet Explorer and then convince a user to view the website."
According to FireEye
[1]
, the vulnerability is affecting roughly 26% of the market share using IE 9-11 and based on Net Market Share's figures
[2]
, the vulnerability accounts for almost 50% of all web browsers, so there's a strong possibility that many of our friends and clients will be vulnerable. There is currently no ETA on a fix for this, so we would recommend that you change your web browser straight away. You can go to
http://www.browsehappy.com
to pick a safe alternative.
This is particularly important for all users of Windows XP, as Microsoft have recently
abandoned support for the platform
, so any updates may not be forthcoming. Upgrading to the likes of Google Chrome will also give you a more rounded, complete experience within Windows XP, whilst most importantly making your computer more secure.
If you have any questions regarding this topic, please get in touch with us on
Facebook
,
Twitter
, by phone (0141 427 0727) or by
e-mail
[2]http://www.netmarketshare.com/browser-market-share.aspx?qprid=2&qpcustomd=0&qpsp=168&qpnp=12&qptimeframe=M



If you have found this post interesting please share it with your online community using either the Twitter, Facebook and Share buttons below. Thank You.