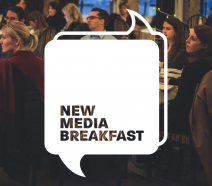 The second New Media Breakfast of 2020 took place in Glasgow and Edinburgh last week, with the topic being the much-requested subject of "Email Marketing". Managing Director of fatBuzz, Gordon White, delivered an in-depth presentation on the continued power and potency of email as a key marketing tool.
Thank you to everyone who attended the events at Tigerlilly Edinburgh and 29 in Glasgow on the 27th and 28th of February. With us now nearing the end of winter, it was great to see some sunlight during these early morning talks!
For anyone who missed this month's Breakfast, be sure to sign up to the official New Media Breakfast list to be notified about our upcoming events and ensure you don't miss out on the topics you want to hear about.
Read on for our recap of Gordon's presentation, detailing everything you need to know about why and how you should be using email marketing in 2020:
Email in a Post-GDPR World
Gordon began the morning's talk by addressing the "elephant in the room" – the General Data Protection Regulation (GDPR). It's been a big talking point in the marketing world over the past few years and is still relevant today, though maybe not as you might expect.
Businesses the world over continue to be concerned about GDPR's effect on their email marketing, fearing fines for improper data collection, difficulty in adhering to the rules and losing a large proportion of their database. This is just the expectation, however. The reality, as Gordon pointed out, is that email marketing is in fact more powerful, post-GDPR.
With the new regulations, a brand's mailing list is more likely to contain people who are actually interested in hearing from it and have opted to keep receiving communications.
Marketers should capitalise on this by building up their database and prioritising email as a method of distributing valuable, relevant content that engages customers and effectively drives sales. Last month's Breakfast explored some of the best ways to use marketing content.
Why Email Marketing?
The discussion then moved to the overall benefits of email marketing, with Gordon highlighting how it outperforms other forms of marketing in a number of ways. Firstly, emails are delivered to your entire subscription list, whereas only around 1% of people who 'like' your social media pages will see your content as it is published.
70% of consumers open emails from their favourite brands, with 72% saying that email is their favourite way to receive new information. If a consumer has an affinity with a brand, they will want to stay connected, and email is a great way to do this.
Used properly, email is also highly trackable and affords you with many options for analytics – rates for opens, clicks, bounces and unsubscribes, plus many more. You can use the handy calculator at www.emailmarketingroi.com to see how much of a return on investment your emails are providing.
Email Service Providers
On the topic of which email service provider to use, Gordon stated how there are many to choose from but you should pick carefully as switching providers at a future date can create a whole host of problems. You should choose a provider that meets your current and future needs with its features, functionality and pricing plan.
Your Subscription List
The discussion moved next to ways of creating, building and managing lists of subscribers, where the following points were raised:
Sign-up forms should be GDPR compliant
Use segmented lists to offer different sign-up options
Your website should have a sign-up landing page
Facebook CTA buttons are a good way of getting people to sign up
You should have a lead acquisition budget in place – research suggests, on average the lifetime value of and email address is around £80. However, this varies from industry to industry, but, using your data, you can accurately calculate the lifetime value of your email addresses.
Competitions are a great way of gathering subscribers – fatBuzz recently helped Dean's Shortbread, one of our clients, in running a highly successful competition with Scotrail
Immediately after you've run a competition, be sure to send lots of emails to ensure that those who signed up just for the competition unsubscribe – you want to filter out low-quality leads
NEVER purchase a mailing list
DON'T share your mailing list
DON'T try to sell on your mailing list sign-up page – only encourage sign-ups
When it comes to managing your subscribers, these are some good points to keep in mind:
Don't get overly concerned about those who unsubscribe – those still on your list are more than likely there because they actually want to hear from your business
Create segmented lists – based on factors like age, gender, location etc. (where relevant)
Keeping Subscribers Engaged
The Breakfast came to a close with discussion of best practice when it comes to maintaining and supporting your subscribers' interest in your brand through email. 64% of people open emails based on the subject line, so this should be given appropriate focus. You should also learn from your email reports (open rates, bounce rates etc) to build a buyer persona for your typical subscriber. Fine tune your emails by split-testing features like sender name and subject line, in order to learn more about your customer base.
Some additional tips:
Offer permanent benefits to members that have signed up – free delivery on products, for instance
Don't ignore current clients/customers for new leads – send out monthly newsletters, upsell services and use interesting features like video and animation to grab the attention of users
Use personalised, triggered and transactional emails – first-time customer emails, date-based anniversaries etc. Vouchers/offers are a good way of getting back customers
One of the key things that Gordon had to say about email marketing is to "Remember, your opted in subscribers don't just want to hear from you, they expect it."
Next Month's Topic: Google Analytics
We hope this recap has been informative! However, the best way to learn about everything marketing related is to come along to the New Media Breakfast yourself to hear the talks first-hand.
Next month, we will be welcoming Tim Barlow, managing director and founder of Attacat, for his talk on "Making Google Analytics work for your business".
This will be held at Tigerlily Edinburgh on the Thursday 26th March and in 29 Glasgow on Friday 27th March. Full details and booking info can be found on the official New Media Breakfast site.
Given the importance of the topic, it is a must-see presentation for any website owner or webmaster. Business leaders will also come away armed with the right questions to be asking of their digital teams. Whether in B2B, B2C and especially eCommerce, we recommend putting the date in your diary to come along and find out how you can maximise the capabilities of Google Analytics.
---
Looking to create a buzz about your brand or business? Get in touch to see how we can help.