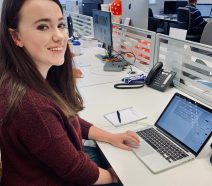 We're excited to have recently welcomed a new fatBuzz intern on board, Mhairi Godsman. Mhairi will be joining our Marketing Team to develop her skills and knowledge in the industry. Here's what Mhairi got up to in her first week with us…
"As anyone working in it can attest to, the digital marketing industry is an incredibly competitive one to break into. Despite having undertaken a number of personal and freelance projects that were helping me get to the interview stage, I found myself being constantly rejected in favour of candidates that had more experience. Which is exactly why I decided to reach out to fatBuzz; so I could gain some hands on agency experience and help break that cycle. I may have only been here a week but I already know it was the best decision I could have made and I'm grateful to the team for allowing me to be here.
Like anyone starting in a new position, the lead up to my first day was filled with nerves, however as soon as I stepped into the office I quickly realised how unnecessary they were. After being introduced to everyone, including office dog Buzz, and being given a quick tour around the office, Marketing Team Manager Cara gave me a full induction in which I got to learn all about the company, how they operate and some of the amazing clients they work with. Then I was shown to my desk and it was straight to work!
Perhaps the best thing about this opportunity is that not only have I been given a large range of different tasks that need completing for a variety of clients, allowing me to gain experience across a range of areas and industries, the fatBuzz team have also been incredibly receptive to the things I would like to do too. This means that as well as getting the chance to sit in on marketing meetings and enhance my writing skills by getting stuck into some copywriting, I've also been given an introduction to SEO which is an area of marketing that I'm keen to learn more about. On top of that, everyone has been more than welcoming, from constantly offering to answer any questions I have and allowing me to assist them with their projects to suggesting some of the best places to go for lunch nearby.
In such a short space of time I've already developed a greater understanding of how digital marketing agencies operate and how the components that underpin marketing campaigns work together. I can't wait to see what other opportunities present themselves and I know how beneficial my time here will be in allowing me to kick start my career. "