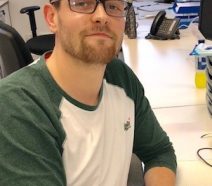 It's been a busy few weeks here at fatBuzz. As the business continually grows, our team must grow too. So, we've recently hired our new Marketing Assistant, Fraser, who we'd love to introduce!
Hey Fraser! Introduce yourself…
Despite studying Product Design for my undergraduate degree, my professional experience has mainly been in Marketing, which I have been doing for the last four years. I'm also a keen writer, having just finished a Masters in Creative Writing, and I hope to one day have written a novel. I suppose I have a pretty wide skillset, but the way I see it, it all involves some form of creativity, which I think is my strong suit and an area that I really shine in. In my spare time, I like to keep active, whether it's going for a run or something more adventurous like hillwalking or bouldering.
What does your new role here at fatBuzz involve?
As the new Marketing Assistant, my main duties will involve several copywriting projects and assisting with the handover of a few key clients, as well as generally being available to help the rest of the marketing team with their client work.
What is it about marketing that interests you?
I am a big fan of guerrilla marketing campaigns that engage audiences through unique and bold experiences. As someone with a lot of experience in writing, I am also very interested in both the creative and technical side of marketing copywriting and how businesses communicate information to their clients.
What brand do you love and why?
One of my favourite brands has got to be Irn Bru. They have some of the boldest and most tongue-in-cheek marketing campaigns, and always seem like they don't take themselves too seriously.
What has been one of your biggest challenges and what did you learn?
Having competed in the sport of rowing for a lot of my life, I've regularly experienced losses as well as wins. Whether rowing individually or as part of a team, I've found that the best way to recover from failure is to know that there is no way of changing what has already happened, so you should put the most focus into what you do next and learning from the things that didn't work the first time. If you learn from every race, win or loss, then it always will have been a valuable experience.
What are you most looking forward to working at fatBuzz?
I'm most looking forward to working with the rest of the team, who have already been very welcoming, friendly and helpful as I've begun to settle in!
Do you have any hidden talents?
I really enjoy cooking and I've been told that some of my recipes are particularly good, so I suppose that might count as a talent!