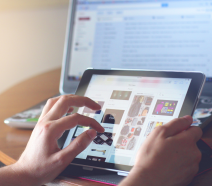 It's been an exciting month full of platform updates and excellent advertising campaigns, so let's jump right into some of the news stories discussed by the fatBuzz Marketing Team during October.
New Advertising Standards for Influencers:
Advertising standards in the UK require influencers to tag their posts with #ad, #sponsored or use the "paid partnerships with…" functions, however most influencers don't do this.
Instagram itself is looking to help by developing new algorithms to detect possible ad content and prompt influencers to disclose any incentives received before posting.
If you use influencers in your marketing, it might be worth reminding those that you work with to clearly label content as sponsored or products as gifted. Ask them to place these disclosures clearly at the start of their captions as hiding hashtags at the end of the post may not meet the advertising standards either.
YouTube Shopping:
With successful shopping integrations on Facebook and Instagram, Google is hoping to enter the fray. Considering that YouTube is the second largest search engine in the world (after Google itself), it makes sense to optimise on its successes. Especially after Google took their first ever revenue decline earlier this year.
Right now, they've asked content creators to tag and track products and there's been some testing of a shoplift integration. So, it's only a matter of time before this feature is rolled out more widely.
If you're in e-commerce, this will be something to watch.
Instagram's 10th Birthday:
Can you believe it's only been around for 10 years? A lot has happened in those years including several logo redesigns, over 1 billion active users, and David Attenborough joining just last month.
In order to celebrate this milestone, Instagram added some new features, mostly for the average user and not businesses. A range of Instagram logos allow users to customise how the app looks on their homescreen, merely swipe down in your settings to activate this feature. Users also now have access to a 'stories map' that enables them to reminisce about the locations they've previously tagged in stories.
Business might be excited about one update: in-stream shopping on IGTV that allows consumers to make purchases without ever leaving the app. This is expected to be extended to Reels as well.
Ad Campaigns We've Loved:
Smile at the World Orthodontics: It's important to understand your audience and these orthodontists clearly understood one of the major customer frustrations that keep people from getting braces. Their humourous ad makes a good point – and by minimising one of the major barriers to investing in braces they just might win some new customers.
Enola Holmes: For the new Netflix film, Enola Holmes, that features a younger sister of the famous Sherlock, Netflix created mini statues of other famous figures' sisters. Each of these women were equally talented, if not more so, than their brother yet were forgotten or forced to choose pursuits more 'appropriate' for women in their time periods. Their statues were placed next to their brother's statues along with plaques explaining the women's achievements. A brilliant marketing plan that really captures the key messages within the film.
---
That's our recap of what's been going on in marketing this month!
If you've been finding it hard to keep up with all the platform changes while trying to put out ads as good as these, then perhaps we can be of assistance! Get in touch today to find out how the fatBuzz Marketing Team can help with your campaign strategy.