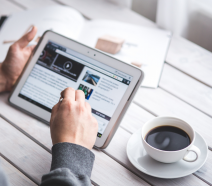 And that's the first month of 2021 over! Is it just us or did January last 3x as long as usual? As always, we have the monthly marketing news round-up to help you stay on top of what's happening in the industry.
This month features some new acquisitions, a return from the grave for an old platform, some new tunes, and Bernie Sanders.
Find out how each of these impacted the marketing world this month:
What's Up in the Marketing Industry:
Twitter Acquires Podcasting Service:
Twitter recently acquired the app Breaker and plans to integrate it into their existing Spaces. Breaker positioned itself as a 'social podcast app' where you were prompted to follow Facebook or Twitter connections and see what they're listening to. You could also like, share, and comment on podcasts.
Spaces is a Twitter feature that creates an audio-only chat room similar to Clubhouse. It's not clear yet how Breaker might be integrated with the Spaces feature, but it's clear that Twitter is looking to focus on building its audio offerings.
Marketing Takeaway: It seems that Podcasts and other audio-based content are here to stay. In the US, 55% of the population has listened to a podcast and 24% listen on a weekly basis. There are podcasts for just about everything, so it's worth getting in on the trend. If you need inspiration, check out the Work is Not a Place series we've been working on with our client Cantium Business Solutions.
Bebo is Coming Back:
While the relaunch is expected in February 2021, there's actually not much known yet about this comeback. Nevertheless, it's been making quite a buzz with people both excited and sceptical about the return of their former favourite.
Worried that your embarrassing Bebo profile from 10 years ago is going to resurface? That's a trip down memory lane we're not quite prepared for either, but not to worry. Apparently, all old profiles are lost.
Marketing Takeaway: Legends never die. We'll definitely be following the developments of this announcement to see if the new Bebo can gain traction and if there will be any opportunities for our clients on it.
Campaigns We've Loved:
Pasta Playlists:
The pasta brand, Barilla, has created a series of playlists to ensure your food is cooked perfectly. Each playlist lasts the exact amount of time needed for your meal to be done if you start playing the music just as you place the pasta in boiling water.
The playlists vary according to the type of pasta, but also have varying genres including pop, hip hop, and some Italian artists. Currently, there are 8 different playlists on Spotify to satisfy your pasta needs.
Marketing Takeaway: We loved this idea – it's fun, creative, and very on-brand. The inclusion of Italian artists feels authentic and the added value for consumers is clear. It's a great way to build brand awareness and organically promote the brand on a platform that seems unconventional for the product. If you want to curate a playlist on Spotify or YouTube, it's also a relatively low-cost way to get your name out there.
Ikea Bernie Ad:
After the US Presidential inauguration, the image of Bernie Sanders wrapped up in a jacket and sitting on a folding chair went viral. While there are so many notable memes that came out of that iconic moment, our favourite had to be Ikea's take.
While Ikea is a homeware and furniture store, they took the classic "get the look" line from clothing retailers and promoted their folding chairs and oven gloves that looked similar to the items Bernie was seen with.
Marketing Takeaway: Taking a risk and creating a marketing campaign that is 'of the moment' can really pay off. While planning a campaign out thoroughly is a good approach in most cases, having the ability to pivot quickly when needed is a great skill.
---
That's our recap of what was happening in marketing last month!
If you've been finding it hard to keep up with all the platform changes while trying to put out ads as good as these, then perhaps we can be of assistance! Get in touch today to find out how the fatBuzz Marketing Team can help with your campaign strategy.