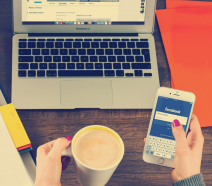 Every week, our marketing team chats about industry updates and creative campaigns that we've seen recently.
Here's the best of the best from what we've discussed in November:
Tools & Features We're Excited About:
Instagram Guides:
Newly launched Instagram Guides are another way to curate your Instagram content. In some ways, it may seem like a natural evolution for Instagram as it combines the best of stories and feed posts into one new feature.
Similar to stories, you can group content under a theme however, some Guides formats also allow you to add longer text content as you would with a feed post – the best of both worlds.
There are 3 guide types being rolled out:
Posts: Group together posts you have created or saved.

Marketing Opportunity:

keeping a content series or campaign organised on your page or share important customer testimonials.

Places: Recommend favourite places.

Marketing Opportunity:

Creating a holiday guide for any tourism companies or get travel influencers to include your location on their list of 'must-visits' in a certain city.

Products: Recommend products or create a wishlist of products you'd like.

Marketing Opportunity:

Get influencers to include your product in a guide of their favourites or create your own holiday gift guides highlighting products that pair well together.
Oftentimes, Instagram's algorithm favours the early adopters of new features, so we'll be looking forward to using Guides for our clients while it is still fresh.
Snapchat Spotlights
Not wanting to be left behind with the successes of TikTok and Reels, Snapchat is now launching their own scrollable feed of short videos. Replacing the old Discovered tab, it'll look somewhat similar to the For You page of TikTok.
The major difference for this platform is that you have to choose to send your content to the Spotlight tab, allowing you to keep snaps to your network only thereby retaining the hallmark privacy of Snapchat.
Snapchat has created a pot of up to $1 Million per day that will be distributed among the top creators of the day. Your profile doesn't even need to be public to participate, you just need to send videos with viral potential to the spotlight feed.
The big marketing opportunity here is to reach the demographic that uses Snapchat which, according to Sprout Social, includes well over half of 13 – 17 year olds.
Watch Together Video Series
The option to have watch parties on Facebook and in Messenger is a really interesting way to promote Facebook-hosted video content. According to Buffer, over 8 billion videos or 100 million hours of videos are watched on Facebook every day.
For content creators, encouraging your followers to use Watch Together could be a great way to push your content out to more people. Marketers might be happy to know that ads can play before/during watch together videos, meaning your video campaign can reach more people than before.
If you want to find out more about using video in your marketing campaigns, check out our content series on video marketing.
Campaigns We've Loved:
PlayStation's Underground Sign Changes
With the UK back to pretty much full lockdown, this marketing move may not have been seen by as many people in-person as Sony had hoped, but the fatBuzz team certainly appreciated it from behind their screens.
PlayStation controllers use four symbols to direct gameplay: a circle, an X, a triangle, and a Square. The London Underground logo already provided the circle, but Sony worked with Transport for London to change some of the signs to include their other controller icons as well.
BrewDog Golden Beer Cans
Who didn't dream of finding a golden ticket and visiting Willy Wonka's amazing chocolate factory as a kid? Well, BrewDog has introduced the grown-up version. You won't win a beer factory, but you might get a golden beer can worth £15k and an extra £10k in BrewDog shares on top.
We've seen quite a few promotions that use the 'golden ticket' method and really like it. Not only is there a nostalgia factor but also it creates excitement and novelty. This is a brilliant way to encourage repeat customers and push people to finally hit that purchase button.
---
That's our recap of what's been going on in marketing this month!
If you've been finding it hard to keep up with all the platform changes while trying to put out ads as good as these, then perhaps we can be of assistance! Get in touch today to find out how the fatBuzz Marketing Team can help with your campaign strategy.