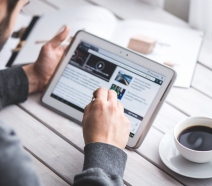 It's hard to believe that we're now in a whole new decade! January has been a busy month for us in the fatBuzz office, and the same can be said of the marketing industry as a whole.
Several brands have been kicking off the new year with bold new campaigns, while some content platforms are taking flak for controversial practices.
Here's a short round up of some of the top marketing stories that we've been keeping up to date with this January:
Cadbury Enters Video-on-Demand Space to Heighten Creme Egg Experience
It may only be January, but with the festive season truly out the way Cadbury has begun to promote it's most iconic Easter treat: the Creme Egg.
In a first for the brand, they've decided not to advertise on the television and instead have teamed up with Amazon Prime to develop 'EATertainment' – a free to access video streaming platform.
The platform will be filled with original content, such as short film 'The Last Delivery' and from February fans will have access to two cinematic pieces found exclusively on the Amazon Prime Hub.
Instagram Tests Direct Messages for its Web Based App
In exciting news, Instagram confirmed that it has started to roll out a test that will allow users to access direct messages through the web version of it's app.
This is a welcome change for users who are not always able to access the app in regions where networks might be limited or if they have a restrictive data plan. However, as the test is currently in it's test phase, it's only available to a small number of users and sadly it doesn't look like this is going to change anytime soon.
The update is still good news for marketers though, as it will make it much easier for brands to directly interact with their followers and quickly address customer service queries.
New Study Reveals YouTube Algorithm Pairs Adverts with Climate Change Denying Videos
A study by activist group Avaaz revealed that YouTube's algorithms have been 'actively promoting' videos denying climate change and pairing them with adverts from 108 brands including Samsung, L'Oreal and Warner Bros without their knowledge.
This isn't the first time YouTube's recommendation algorithm has come under fire. In 2017 an advertising boycott which cost Google millions of dollars in revenue came about when brands discovered their ads were being placed with extremist content.
It just goes to show that there is still some work to be done in refining the algorithms behind video ad placement, especially with controversial content becoming more widespread on platforms like YouTube.
Oatly Launches its First National Campaign
In a bid to promote their plant-based products, Swedish brand Oatly has jumped on the Veganuary bandwagon this year with the launch of it's first ever national campaign.
Running across Bristol, Brighton, Glasgow, Manchester and London, Oatly's Billboards contain tongue-in-cheek messages such as:
"Now you know something about oat drink. Hope that's ok with you." and "If you don't put that smartphone down, how are you ever going to notice this ad for oat drink?"
The ads are also accompanied by jingles to be played in podcasts and on the radio, and pop up coffee shops will appear all over the country offering people free hot drinks.
---
Want to create a buzz about your brand or business? Get in touch with fatBuzz to find out how we could help you share your message.