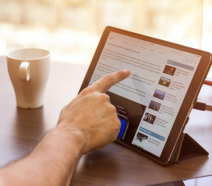 With the end of May comes our monthly news round up of all the great things that happened in the marketing world over the past month.
If you're in the marketing industry, this can be a great way to catch up on any stories you may have missed and if you're a client it can be helpful to know what's possible on various platforms so you can ask us about other services not currently covered on your retainer!
Either way, knowledge is power, so read on to find out what went on in May 2021:
Tools & Features We're Excited About
A Big Month for Instagram
When we were going through our list of new features being rolled out on different marketing platforms, one thing was clear: Instagram has been busy. Here are a few of the new updates:
Captions sticker in Stories
Feed Posting from Desktop is being tested
Insights are now available for reels and Instagram live
Testing a 'bonuses' feature which gives financial incentives for Reels content
Hootsuite now has the ability to schedule Instagram stories.
Marketing Insight: While the growth of Instagram seems to be slowing, the platform still has a lot of space for making the user experience better for its existing users. From an agency perspective, desktop posting is a great new feature meaning we don't have to switch to a phone for direct posting. Being able to now schedule Stories will help with keeping client content going on the weekends.
As the world starts to take more note of accessibility, the ability to caption video stories is a great feature worth using (just like you should be using your alt-text option on images for both SEO and accessibility purposes).
Pinterest Goes Live!
Like pretty much every other social media platform, Pinterest is now planning to release a live event capability. At the moment, the events will only be available to Pinners in the US, and only in the app, on both iOS and Android.
Video views within Pins increased more than 3x in 2020, so this seems a natural next step in adding more video to the site.
Marketing Insight: Pinterest is still a really underrated app for marketing as it's one of the major platforms for consumer pre-purchase research. Usually covered in clothing, home décor and food recipes, the addition of live video will give a chance for stylists, interior designers and chefs to talk more directly to their audience – and that's always a good thing.
Must-Know Industry News
The Power of Video…
Alphabet reported that YouTube's TikTok copy 'Shorts' is now up to 6.5 billion daily views, rising from 3.5 billion at the end of 2020 and in the first quarter of 2021, YouTube brought in $6 billion in ad revenue – up 49% from the previous year.
YouTube has noted that an increasing number of viewers now stream their videos on a TV, though the majority still use a mobile phone.
Marketing Insight: Everyone making their own version of TikTok seems to be paying off. With the introduction of Pinterest live video, Instagram making Stories more accessible and YouTube continuing to grow, it's clear that there's never been a better time to invest in video.
…Specifically TikTok videos
Social Media Today posted an infographic about TikTok and the most interesting insight was that TikTok now has more than 800 million monthly active users, while users spend nearly 4 more hours/month in the app than they do on Facebook or Instagram.
Marketing Insight: If you thought TikTok was a fluke and wouldn't last, it's still seeing enormous growth at the moment. If you want to talk about building a TikTok strategy, get in touch with us.
Campaigns We Loved
Seeing Guinness?
This short but sweet video advert on Twitter features all the things in our world that *might* look like a pint of Guinness, but only if you squint a little. We liked the brevity and light heartedness of this advert. It managed to show a lot while saying very little – covering the pandemic and how excited we all are to share a pint again with family or friends.
Marketing Insight: It feels like this is the main insight every month, but 'simple' often accomplishes your marketing campaign goals better than something big and showy.
---
That's our recap of what was happening in marketing last month!
If you've been finding it hard to keep up with all the platform changes and industry updates while trying to put out ads as good as these, then perhaps we can be of assistance! 
Get in touch today to find out how the fatBuzz Marketing Team can help with your campaign strategy.