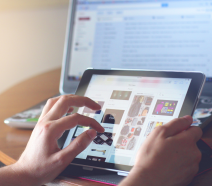 As the world continues to be affected by the Coronavirus (COVID-19) pandemic, and the UK moves into it's second month of lockdown, it's becoming even more essential for brands to find ways to connect with their customers in order to survive.
From campaigns to raise money and provide supplies to those most affected by COVID-19 to social media updates that will allow people to stay connected, here's a short roundup of some of our favourite stories to emerge in April.
BT launches new campaign
In a bid to actively demonstrate their purpose, telecommunications company BT has launched a new campaign that aims to teach the nation vital digital skills to help them cope during lockdown.
The campaign, 'Beyond Limits: Top Tips on Tech' will see celebrities, including Clare Balding and Fearne Cotton, discuss topics ranging from how to use WhatsApp, advice on which online services can help with mental and physical wellbeing and an introduction to podcasts. This series of 12 short 3-minute videos will be shown during the advert breaks on ITV during This Morning and the ITV Evening News.
This is the first of BT's two step response to the Coronavirus which considers how the brand should be acting during the height of the pandemic. The next two phases will examine recovery and renewal as the lockdown is lifted.
Ted Baker creates digital pop-up store to raise funds for charities
For the first time ever, fashion brand Ted Baker has announced they are launching a digital pop-up shop that will sell limited edition products with all proceeds going to communities affected by the Coronavirus.
The first products to go sale will feature three exclusive Ted Baker designs: a rainbow, an applause emoji and a 'Home Hope Love' slogan and prices range from £5 for an A4 poster print to £25 for a T-shirt. Other products in the collection include beanies, cups and tea towels.
All profits from the first sale will go to the charity Magic Break who provide free breakfasts to children living in poverty. After that Ted Baker have said they plan to change the recipients every time they add to the collection.
Facebook outlines a range of new video tools
In response to the recent boom in the use of video service platforms, earlier this month Facebook announced that they had launched a range of new video tools across their family of apps to help people stay connected.
On WhatsApp the group chat capacity has been increased from 4 to 8 while over on Messenger, Facebook has added new effects that help you improve the quality of you call and you can even add a virtual background. However, the biggest addition is a new Rooms option on Messenger which will allow users to spontaneously connect with their friends and families and chat without any time limitations. Users will also be able to send out invites across all of Facebook's apps or even join in with a URL if they don't have an account.
Whether this is enough to compete with Zoom who have rapidly become the face of video calling, only time will tell!
Kellogg's UK pledges to deliver food to frontline staff
Cereal giant Kellogg has launched a new social media campaign that is designed to support the NHS and other key workers in the UK who are fighting in the frontline against the Coronavirus.
By encouraging people to post a picture in which they thank the NHS by holding up their bowl, accompanied by the caption '#raiseyourbowl', Kellogg's are hoping to raise awareness of their pledge to distribute 500,000 servings of food. Upon seeing it, NHS staff are then encouraged to visit the Kellogg's website where they can request a donation for their own staff or break rooms.
The launch comes after Kellogg's announced that they were also going to be distributing a minimum of 3 million servings of food to reach food banks, schools, vulnerable community groups and delivery drives.
It's encouraging to hear of so many large brands who are using their influence for good during the ongoing crisis.
---
Although these time are uncertain, with a bit of creativity we believe that all business can continue to promote and grow their brand.
At fatBuzz, we're committed to consistently delivering a high standard of service and are able to provide a full range of digital marketing activities to help you engage with your community. If you'd like to find out more, get in touch today to find out how we can help.