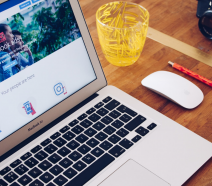 There's been one topic dominating global headlines this month: the Coronavirus (COVID-19) pandemic. With the virus causing major impacts across all sectors, many businesses have had to work remotely or temporarily close their doors. This has left marketers to come up with creative new ways to reach their audiences as social distancing and working from home become the new norm.
(We at fatBuzz have been working from home ourselves, which has been going well so far thanks to everyone's effort and productivity!)
From new product launches to fighting the spread of misinformation and encouraging social distancing, brands have had to adapt quickly to continue operating, while ensuring they don't exploit the situation.
Here's a short round up of some of our favourite marketing, social media and design stories that happened this March:
BrewDog begins manufacturing hand sanitiser
Scottish brewing company BrewDog have decided to 'lend a hand' in the fight against Coronavirus by using their manufacturing facilities to create and bottle batches of hand sanitiser. Admirably, they're also giving it away for free to those that genuinely need it, with the first batch going to Aberdeen Royal Infirmary's Intensive Care Unit who had completely run out.
The news comes as a welcome relief amid stories of shortages, caused by panic buying, which is what prompted the company to act in the first place.
With so much close attention being paid to businesses during this time, we're sure that BrewDog's actions will firmly cement them in consumers' good books.
Facebook helps fight the spread of Coronavirus misinformation
As the Coronavirus continues to spread around the world, so too has the misinformation surrounding it, leading to much more confusion and panic. In a bid to tackle this, at the beginning of March, Mark Zuckerburg announced that Facebook would provide the World Health Organisation (WHO) with as much free advertising space as they require.
Alongside this, when a user types 'Coronavirus' into the Facebook search bar, they will immediately see a pop up that sends them directly to the WHO page for the latest information. Facebook is also committed to removing conspiracy theories and will block ads that falsely promise a cure or make other false claims.
Tackling false information has certainly been an issue for Facebook in the past, however there's no doubt that a successful campaign here would bring much relief to users all across the globe.
Instagram rolls out new updates in response to the Coronavirus pandemic
Instagram has rolled out a number of new features to help users feel more connected while social distancing.
One such feature, called 'Co-Watching' allows friends to video chat while browsing through a feed of posts that one user has liked or shared, or that Instagram recommends. Normally a solitary activity, it is hoped that this update will reduce feelings of loneliness while also encouraging users to collect a great selection of saved posts.
Other updates include the removal of unofficial COVID-19 accounts and the introduction of a 'Stay Home' sticker which users can add to their stories to encourage people not to go outside. Instagram is also starting to expand the donation sticker to more countries so more people can make contributions to relevant organisations.
Classic album covers reimagined to encourage social distancing
Finally, in graphic design-related news, LA based advertising agency Activista has added a creative twist to a series of iconic album covers to encourage people to follow the guidelines regarding social distancing.
The reworked covers, which include Abbey Road and Rumours among others, features the band members spaced 6ft apart to show the appropriate distance recommended to curb the spread of the Coronavirus.
With so much confusion around the proper protective measures to take, it's great to see the information being presented in a fun and succinct manner. You can check out all the album covers here: https://6feetcovers.wixsite.com/6feetcovers
---
Although these times are uncertain, with a bit of creativity we believe that all businesses can continue to promote and grow their brand.
At fatBuzz we're committed to consistently delivering a high standard of service, able to provide a range of digital marketing activities to help you communicate and engage with your online community. Get in touch today to find out how we could help.
---
We hope that everyone working from home, self-isolating, or still out working is staying safe, healthy and positive! – Team fatBuzz