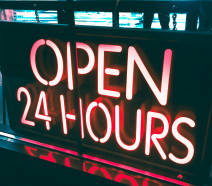 The current public lockdown descended quickly across the UK. Nowhere were the effects of this felt more than in the hospitality trade. Almost overnight, pubs, venues and restaurants were told to call last orders and close temporarily as a measure to slow the onset of the Coronavirus pandemic.  The key thing to focus on however is the word 'temporarily'.  
For hospitality businesses that come through the other side of the COVID-19 lockdown, it's entirely possible that they will not only bounce back quickly but will also enjoy a boom as footfall returns to city streets. You'd be hard pressed to find anyone in the country who isn't currently craving a night out. Cancelled events will also need to be rescheduled, meaning that fitting them all in might be the next challenge facing venues.
This is all easy to say of course, but what will the reality of this mean?
Over the past month, businesses have rightly been focusing on immediate continuity and adapting to the lockdown. However, with things now settling it's instead worth looking at marketing strategies to help in the long run. Smart decision makers in hospitality will be laying the groundwork now for a quick and profitable transition back to regular operation.
So, what can hospitality businesses be doing to effectively use their marketing and communication channels to keep customers invested for when things return to normal?
Advice for Businesses in Hospitality
Bars, restaurants, music and arts venues, cafes and more should be finding ways of maintaining engagement with their community of followers, friends and customers. Here are some good ways to achieve this:
Continue engaging with community on social media – use this time to like, comment and share even more than you normally would. Encouraging people to share photos, stories or other pieces of content related to your business or service is also good. Why not look into curating user-generated content and sharing with your wider audience, or running competitions to engage with users and grow your social following?
Show the community activity your business has been taking – are you still delivering food, giving away free meals to key workers or raising money for a charity of healthcare organisation? Building trust through activity like this is going to be a key currency for businesses to bank and will pay dividends upon re-opening.
Do you normally run live events like gigs, DJ nights or quizzes? Using Zoom or another popular video conferencing platform can let you run free (or charitable) virtual events for your community to provide an opportunity for social interaction and keep up interest in your fun events and entertainment.
This could be the perfect time to begin planning a rebrand or new menu – you could either tease a big announcement or engage with your community to help develop the new look of your business and product offering. This engagement will help to keep you on your customers' radar.
It's also a prime time to be building your database – finding ways of expanding your subscriber list will pay off in the long term. If you're not already planning a re-opening event or promotion, you probably should be. Not only can this create a lot of buzz around your brand, but also create many opportunities to run competitions or promotions with data capture. You don't need to have a date set for a re-opening party just yet; people will likely still sign up if your offering and incentive is strong enough.
There's no limit to the number of competitions, promotions or events you run; the important thing is to be visible to your target audience and use the channels you have at your disposal to engage with them in a meaningful way. When you do reopen, these are the people you want back on the premises and spending money. Investing time in them now will help you bounce back strongly.
What about the Hotel Industry?
There's little doubt that hotels, B&Bs and other accommodation have been hit hard; travel has halted, business meetings are now being held over video and weddings, conferences and other events have been postponed or indefinitely put on hold.
Despite the difficult times we're going through however, it's not unreasonable to assume that business will return fairly quickly in the UK once the lockdown lifts. So, what should hotels be doing to attract business quickly when current restrictions are lifted?
Overseas holidays will likely become unappealing for a while; either due to continued travel restrictions or lack of appetite for travelling abroad. So instead you should focus on attracting local UK residents for 'staycation' breaks. Interest in this is already something that seems to be on the rise. Therefore, you should be doing what you can via online advertising to promote your offers to a UK-based audience. 
While you may not know when you will reopen, you should still be responding to enquiries as much as possible, as you may have people looking far ahead and anticipating holidays several months from now. Running special offers or setting up membership incentive programmes can encourage people to join your mailing list and stay tuned for further news about when they can book with you.
---
Now, more than ever before, consumers are anticipating holidays, eating out and nightlife once it is safe to do so. Social media activity is also very high at the moment, so hospitality businesses should use this opportunity to engage with their online community and provide them with something to look forward to post-lockdown.
Our key advice for all businesses is to communicate and remain visible to potential customers on your social media and digital media channels. It may not seem like it, but investing in your marketing and customer communication now will pay dividends in the future (hopefully the not too distant future). Once lockdown restrictions are lifted, you should return to trading as normal as quickly as possible and this will be difficult to achieve without first laying the groundwork in these coming weeks.
As the old saying goes: "Fail to prepare, prepare to fail."
We hope that all businesses in hospitality and accommodation do what they can to communicate and engage with their community during the lockdown and hopefully, things will return to normality soon.
To find out more about how fatBuzz could help your business with digital marketing, web development, graphic design or video production services, please don't hesitate to get in touch.