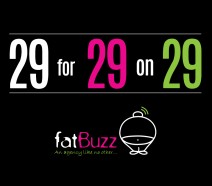 2016 is a leap year which means we have an extra 24 hours to enjoy this calendar year. With so many businesses always wishing that they had more time, we decided to do something productive with our extra day, and want to encourage you to do the same.
This year 29th February falls on a Monday, and at fatBuzz we will be marking the occasion with 29 for 29 on 29. That is, we aim to complete 29 challenges at some of our clients' bases, in return for £29 for Kilbryde Hospice on 29th February.
We'll also be donating our fatBuzz bears to the cause – our clients have the chance to receive one in return for a £29 donation on our JustGiving page. Of course £29 is just the minimum suggested donation – everyone is always welcome to donate more!
The funds raised will be going to Kilbryde Hospice, and you can donate even if you're not a fatBuzz client. Kilbryde Hospice is a new palliative care service in South Lanarkshire, which has been built solely by donation, however funds are consistently needed to help maintain the running of the Hospice. Located next to Hairmyres Hospital, this facility is a much needed care offering in South Lanarkshire. Offering more than just end of life care, there are also opportunities for day visits and therapies. We hope you'll agree that this is a more than worthwhile cause to donate our extra day to this year.
As part of our donation of our time on the day, we will be out visiting clients and undertaking challenges for them in order to raise awareness of the charity and its cause. What sort of things will we be doing? We won't know until we get there! One thing's for sure – it will certainly be worth everybody's time and money.
On the day we'll be keeping you up to date with loads of commentary on Facebook, Twitter, Periscope and Instagram. Join us using #fatBuzz29 or by following our accounts.
For more information on Kilbryde Hospice, please visit their website.