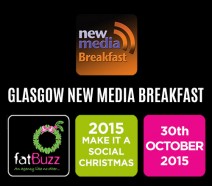 Make It A Social Christmas – Planning Ahead
DATE: Friday 30th October 2015
TIME: 7.45am for 8.00am
VENUE: 29 Member's club, Royal Exchange square, Glasgow
Though you may not like it, Christmas is almost upon us, and experience has demonstrated that many of us would like to have done some clever campaign for the Festive Season, but alas we've left it too late and run out of time.
Indeed, many organisations do run great Christmas campaigns, and that's usually when we say to ourselves, "next year I must plan to do something".
Christmas campaigns can be to promote a product or service, but they can be much more; they can send a goodwill message, they can promote a cause, they can simply show your customers that you care about them.
Whatever the objective, it's important to plan these as early as possible.
Rest assured, the great things you saw brands doing last year were planned well in advance.
The October New Media Breakfast will take a look at some of the things brands have done in the past to spread some cheer around the festive season, and we will provide some ideas for Christmas 2015 that you can easily adopt or adapt for your business.  This will provide plenty time to plan what you are doing and make it a success.
Whether it's an extended campaign run through your website, an interesting and relevant blog post, a Facebook promotion, a LinkedIn status update, a touching video, or some clever tweets, there will be something that will inspire you to make this a much more social Christmas.
SPEAKER
The breakfast session will be presented by Gordon White and perhaps other members of the fatBuzz team. You can view Gordon's profile here.
HOW TO BOOK
Venue: 29 Member's Club, Royal Exchange Square, Glasgow
Date: Friday 30th October 2015
Time: 7.30am for 8am
Cost: £10+VAT
BOOK FOR NEW MEDIA BREAKFAST GLASGOW HERE:

If you are a 29 Member you can attend the breakfast free of charge. Please email 
fiona@fatbuzz.com
 with you membership number and she will add you to the attendance list.
We hope you can make it along to this event. If so, I look forward to seeing you on the day.