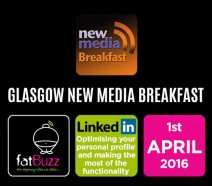 LinkedIn
Optimising your profile and making the most of the functionality
DATE: 1st April 2016
TIME: 7.30am for 8am
VENUE: 29 Member's Club, Royal Exchange Square, Glasgow
It is amazing how time flies, it is 18 months since we last looked at LinkedIn and much has changed on the platform since then, Indeed, much has changed in digital marketing in the last year and a half!
The March New Media Breakfast will take a close look at LinkedIn and explore why it is such a powerful business networking platform.  We will also take a look at the recent changes to LinkedIn Groups, and to LinkedIn's mobile application.
Of course like any platform, LinkedIn is only as useful as you make it, so we will take a close look at what you need to do to optimise your LinkedIn personal profile and what you can do to attract relevant people to you.
We will also take a look at how to use LinedIn in conjunction with other platforms like Twitter, and how to share your Content in a meaningful way to a relevant audience.
WHO SHOULD ATTEND?
This will be a very useful session for anyone with a LinkedIn profile, especially those using it to try to find new connections and create fruitful engagement.  The session will be presented in an easy-to-understand manner that will enable people to get the best from their profile in the future.
SPEAKER
Gordon White, Managing Director of fatBuzz Ltd will present this breakfast.
HOW TO BOOK
Venue: 29 Member's Club, Royal Exchange Square, Glasgow
Date: Friday 1st April 2016
Time: 7.30am for 8am
Cost: £10+VAT
Cost: £10+VAT
BOOK FOR NEW MEDIA BREAKFAST GLASGOW HERE:

If you are a 29 Member you can attend the breakfast free of charge. Please email 
fiona@fatbuzz.com
 with you membership number and she will add you to the attendance list.
We hope you can make it along to this event. If so, I look forward to seeing you on the day.