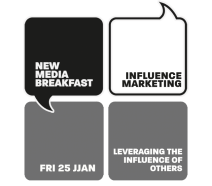 Happy New Year to all of our New Media Breakfast supporters, we wish you all the very best for 2019 and we're delighted to announce the first New Media Breakfast of the New Year.
INFLUENCE MARKETING
There is little doubt that Influence Marketing will be one of the biggest and most talked about topics in marketing in 2019.  Consumers are influenced by what others say about your product and service; customer review sites like Trip Advisor, Trust Pilot and Feefo being good examples of buyers are increasingly influenced by other people's experience of your brand.
Similarly, people are increasingly influenced by genuine endorsements.  Using people to influence buying decisions is not a new marketing strategy; sponsorship and celebrity endorsements have been a central part of marketing for some of the biggest brands in the world for many years. However, it's not exclusively a strategy for the big brands; for example, you may have used testimonial content in the past which is a form of Influence Marketing.
There is little doubt that it works and people are swayed by what people who influence them say about a product or service. But it's not just celebrities who influence us, people within our own communities and everyday lives have as much, if not more, clout when it comes to even the smallest decisions.
Social channels have brought influence Marketing within the grasp of even the smallest business; it is possible for every company to harness the power of word-of-mouth in new and effective ways.
It's not just about turning happy customers into ambassadors, although that can be an important element; it's about identifying who can influence a buying decision and that may not always be people you deal with directly.
There are many ways to utilise Influence Marketing; it needn't just be about influencing a buying decision. It could be to raise awareness, change a perception or to encourage you to support a cause, there are many ways to use it effectively.
At the January New Media Breakfast, we will be exploring how digital media, is making Influence Marketing an important part of the marketing mix. We will explore the following:
Why Influence Marketing is more important than ever before
How influence marketing works
Identifying your objectives
How to identify your influencers
Methods of utilising influencers
Incentivising influencers – or not?
We will also offer some examples of how businesses, large and small, are successfully adopting Influence Marketing strategies via online channels to find new customers and generally extend their reach.
Who Should Attend
Anyone involved in marketing a product, service or cause who want to find out more about how to leverage influencers who can attract be and relevant people to their organisation.
Speaker
The January New Media Breakfast will be presented by Gordon White, Managing Director, fatBuzz Ltd
Cost: £10 +VAT
BOOK FOR NEW MEDIA BREAKFAST GLASGOW HERE:
No.29 MEMBERS GO FREE
If you are a 29 Member you can attend the breakfast free of charge. Please email 
fiona@fatbuzz.com
 with you membership number and she will add you to the attendance list.
We hope you can make it along to this event. If so, I look forward to seeing you on the day.