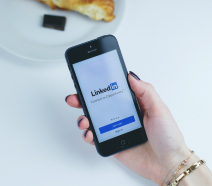 As businesses begin looking at a return to normal operation following the COVID-19 lockdown, managers can be using this time to upskill their employees in using LinkedIn effectively as a business networking and marketing tool.
With over 690 million members across the world, LinkedIn is the leading network for professionals. One of the most versatile platforms of its type, it allows members to connect with each other, share and engage with updates and articles and even list or apply for jobs. Where the strength of LinkedIn really lies is in how it allows members of staff within an organisation to act as ambassadors of the business within a professional setting.
Employees can post their own insightful articles or share/cross-post those of their company and its leaders, resulting in more exposure for the piece of content. Engaging positively with thought pieces and news updates from others within their industry allows staff to represent the business and open up a meaningful dialogue with others. Employees can use LinkedIn to promote their organisation more directly than with organic posts on the business page alone.
This effectively turns every member of your team into a brand advocate. Continued and well-considered employee interactions will reach fellow professionals within their personal networks and even their industry as a whole – this opens the potential for increased brand awareness, new sales and client prospects, all without spending any money on advertising.
During recent times this has grown to be more relevant than ever.
Training Staff for LinkedIn
We've written before about how the recent lockdown period can be used as a way to explore new approaches to your business' marketing, but what it also presents is the opportunity for your staff to learn new skills.
Some employees may be temporarily furloughed, or marketing and sales teams may have lower workloads. This time is and will continue to be valuable – while the public lockdown has begun easing in the UK due to new government guidance, things are likely to be far from normal in the foreseeable future. Now is the time to make employee development a key activity.
One of the areas where staff members can afford to have more expertise – no matter the sector they work in – is in effective LinkedIn use. As we've said above, employees harnessing the tools of LinkedIn are often the best representatives of your business. So, why wouldn't you want to bolster your marketing and content reach in a cost-effective way?
Online Training from fatBuzz
At fatBuzz, we offer LinkedIn Training that can help companies transform their members of staff into brand advocates by optimising their profiles and taking up good habits for frequent LinkedIn use.
Currently, we are delivering 3-hour training courses via video conferencing for £30+VAT per person. These cover several areas of the LinkedIn platform, including profile setup, advice for posting, sharing and engaging with networks and guidance on how to plan an effective LinkedIn strategy.
Upcoming courses are as follows:
We've already had several of our clients and business partners make great use of this training and we are glad that we're still able to deliver this beneficial course during this time. For any companies that feel they could be making better use out of the ongoing lockdown, perhaps LinkedIn training can be the answer.
Not only will having a stronger LinkedIn presence through your employees be beneficial for the business, but it will also continue the development and skill growth of your team before returning to normality.
---
Get in touch with us to find out more about booking a LinkedIn Training Course with fatBuzz.