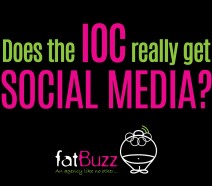 It's been four years since London 2012 and it seems as though the International Olympic Committee are still dragging their heels over social media and the internet age. Back then, Olympic sponsorship was so fiercely protected in the UK capital, you dared not wear a Nike t-shirt in Stratford for fear of being fined.
Now there have been slight changes to Rule 40, which means that this year athletes can still appear in advertising campaigns for their own sponsors, even if that brand is not an Olympic sponsor. This is still heavily regulated however, with specific rules for brands to follow to keep in line with the IOC, including sharing their advertising plans months ahead of the games.
One thing that remains unchanged, and is possibly policed even heavier, is the use of Olympic terms by brands on social media.
To hashtag or not to hashtag?
If you are an Olympic sponsor, such as Coca Cola or McDonald's you're welcome to mention #Rio2016 or #OlympicGames, as well as mention trademarked Olympic terms, phrases and imagery. This is part of the agreed sponsorship package. However, companies that are not official Olympic partners are not permitted to use phrases like "Olympic," "Rio," "gold," "silver," "bronze," or "Games."
The International Olympic Committee created the branding rules in terms of advertising, but how do you accurately define advertising in the internet age, and how possible is it to effectively police this?
For example, a small chain café in the central belt of Scotland may post on their social media accounts "Go Andy and #TeamGB. Well done on winning the gold in Rio!" and they would be technically breaking the rules, by using words and phrasing from the IOC's forbidden list.
In reality, there could be plenty of small cafés and retailers across Scotland and many of the other participating Olympic countries all Tweeting similar messages. Do the IOC really have the time and resources to police this? Is it feasible to stop brands using phrasing, or are the rules antiquated and unenforceable?
Thanks but no thanks
To rub salt into sponsors wounds, athletes themselves participating in the games are not allowed to thank their sponsors at all. The blackout started on 27th July and lasts until 24th August, meaning any athlete mentioning a non-Olympic sponsor within this period will be seen to be breaking the rules. Whilst this isn't punishable in a criminal court, the repercussions are things like revoking medals or disqualifying said athletes. In fact, sponsors are not even allowed to re-tweet athletes during the blackout period, as this as seen as advertising or endorsement.
To counter the rules, US runner Emma Coburn, along with many other athletes, took the opportunity to thank her sponsor New Balance prior to the ban:
#Rule40 starts tomorrow so I won't be able to say Thank You to my sponsor. THANK YOU FOR EVERYTHING @newbalance ?? pic.twitter.com/udSEIPhsIA

— emma coburn (@emmajcoburn) July 26, 2016

However, if athletes can't thank sponsors and non-Olympic sponsors can't hashtag the games or mention specific words/phrases, are the IOC not just shooting themselves in the foot? By limiting who can talk about your event on social media, you limit your audience and overall reach. Most people under 30 consume their media via social platforms such as Facebook and Twitter – why would you want to alienate and exclude a large and influential audience?
Conversely, if athletes all decided to break the rules, would they all end up disqualified? This may offer a great publicity stunt but it might see the IOC struggle to sell-out events where stars like Usain Bolt, Michael Phelps or Serena Williams won't be competing.
In a world where we are all encouraged to be social and share, it seems like a hindrance more than any sort of sponsor protection to stop athletes and brands from engaging with your event. Nobody ever said no publicity was good publicity.