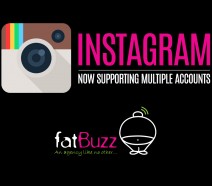 One of the most requested features on Instagram by professionals and individuals is the ability to support multiple accounts. Now, finally, Instagram has integrated this feature into its app, making it possible for users to switch between accounts.
Instagram has been listening to its users, in a bid to make the social media platform more user friendly in both personal and business terms. Until now, users would have to tap into third party client software in order to oversee multiple Instagram accounts simultaneously. For huge organisations, and in particular digital agencies like ourselves, this has proven a laborious task but one which was necessary to manage a several Instagram accounts successfully.
The new feature can be accessed from the account settings in the Your Profile section of the app. Here you'll have the ability to add multiple accounts, similar to the option currently offered by Twitter. Where users have added one or more additional accounts, they will then have the ability to switch between them by simply tapping on the username at the top of Your Profile. To keep things simple, the app will also show the profile photo of the account the user is currently posting from – again similar to the feature Twitter's app already offers.
Instagram has been testing this feature for a while, with some Android users first getting to experience this back in November. The company announced in a statement on Monday that users should be able to access the feature this week. The feature will appear as part of the 7.15 update which is available to both Android and iOS users, so it could take a few days, or at the very longest until you choose to manually update the app, until you'll be able to see this change.
The change has been welcomed by users, and will prove even more popular by June 2016, whereby most of the third party feed viewing apps currently used to help users update multiple accounts will then lose access to Instagram's API. This is part of the recent changes announced in the company's developer policy.