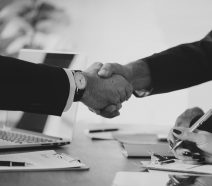 Choosing to hire an agency is a decision most companies need to address early on in their life cycle and is vital when growing a business. Marketing and design agencies provide a range of services which allow you to focus on key operations at the core of the business, while we take responsibility for achieving those marketing goals.
If you're a small business (or even a larger organisation), you are probably looking for guidance on how to tackle your marketing strategy. We take a look at the top considerations when hiring a marketing and design agency:

What Are Your Goals?
Creating an understanding of your aspirations will help put a structure and objective to the marketing strategy. Each business has its own idea of what outcome they want from their marketing budget – whether that be a specific business target or objective, brand re-fresh, business growth, increased brand awareness, increasing sales, generating leads, or increasing website traffic. How an agency tries to achieve these goals may differ. For example, one agency might try to increase your online presence by creating blog content whereas another may recommend a complete branding re-fresh. Be transparent and honest about your businesses goals and objectives to find the agency that can best serve your needs.
At fatBuzz, we consistently refer to our initial client objectives and work our marketing and design strategies around this to ensure we are helping clients to get the most ROI out of their marketing budgets. Constant and honest communication with our clients ensure we are always on the same page when it comes to progress and planning. Consistency is also key here, as businesses will often develop their goals and change them over time. We insist on regular contact with our clients as this allows us to familiarise ourselves with the business and help shape the marketing to match expanding or evolving goals.

Expertise
When searching for your agency, it is essential to validate the required expertise. Looking at case studies of previous marketing, design and website projects they have worked on can establish the company's credibility and tell you a lot about how they tackle a client brief and what services they offer clients.
It is also worthwhile to learn about an agency's history by researching how long they have been established and what kind of background the founder(s) came from before starting the company.
With over 30 years' experience, in marketing, fatBuzz assists brands and businesses to create and maintain integrated marketing strategies that highlight the value of their products or services to their target audience. Our services include:
Marketing
Website design and development
Branding, design and print management
Video Production
Training

How important is social media marketing?
Well-executed social media content and design is essential to drive targeted traffic to specific areas of your website. Social media is the modern megaphone, so, not having a social media presence today is not an option for brands to stay relevant as it has revolutionised the way people do business. You cannot expect to reach your target audience if you don't let the world know you are there. Any reputable agency will also be able to advise and implement analytics and tracking tools which will expose strengths and weaknesses in a social media campaign. With an estimated 42 million social media users in the UK by the end of 2018, can any business really afford not to be connected?
At fatBuzz, we have a team of Social Media Marketing experts with versatile copywriting skills who work closely with our design team to create content that reflects your brand values. We know where your audience is, how they use specific platforms, and what content works best where. This helps to make the first important steps in the positive use of social media. Thorough research in to which audiences to target and how best to target them through social media is vital for your success, so, when it comes to background and competitor research – you can leave all the leg work up to us.

Budget
Marketing is an investment. Some businesses can dedicate a big budget, while others look for something smaller in scale. Often, new businesses require flexibility and a transparent billing practice based on their business needs. They also usually need to invest much more heavily in marketing initially than a business who has built up their brand and reputation over 20+ years.
At fatBuzz, our team measure digital outcomes constantly and consistently; monitoring for performance and relevancy to ensure our clients are getting the most effective service and ROI for their budget. We believe you get out of marketing much of what you put into it. You can't expect huge results on a miniscule budget, but your spend on marketing should always be lower than your ROI.

Recognising what you need
Are you needing to launch a big campaign but don't know where to start? fatBuzz have Marketing Account Managers, Copywriters, Web Developers, Graphic Designers and Video Specialists with a host of other skills, experience and knowledge to offer to help excel the digital side of your business. Whether you are ready for a full marketing overhaul or you just need some branding guidance, don't waste time, money, and effort. Give us a buzz and say hello!
Tel – 0141 427 0727
Email – hello@fatbuzz.com