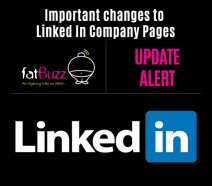 Many LinkedIn Company Page users may not yet realise the impending changes regarding the size of the icon image that can be used on LinkedIn.
The previous image size of 100px x 60px is being replaced by a new standard square image and the new size allows you to upload much higher resolution graphics.  Now you can, and should, replace your LinkedIn Company Page icon with a 400px x 400px image, and the new minimum size will be 300px x 300px.  You should also note the new maximum file size is now 4mb, meaning you can upload a high resolution graphic rather than the standard image at 72dpi.
The move is intended to ensure consistency of your logo's appearance across all LinkedIn products and it will appear on Company Pages, Sponsored Updates, and Campaign Manager (Ads). The actual size the image appears on the various LinkedIn products may vary, however LinkedIn will use your single 400px x 400px file and automatically resize for the relevant application.
If you fail to change the current default 100px x 60px image your image will not appear at the optimum size, and when the changes have been rolled out across all company pages, LinkedIn will add white padding to your existing smaller image.
What should you do?
If you are the admin of a company page, you should go to the page and select the "Edit Page" option, from there you will be able to upload a new image sized at 400px x 400px, and since the allowable file size is now much larger, you can make this image 300dpi.  You will also notice there is no longer an option to upload two icon images as before, from here on LinkedIn will only use the new larger square icon.
What should fatBuzz clients do?
If you are a fatBuzz client, you don't need to worry, we will be replacing all of your LinkedIn icon images over the next few days.  We've got you covered!