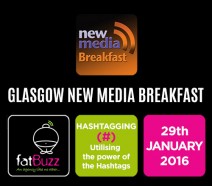 Hashtagging – Utilising the power of the Hashtag
Venue: 29 Member's Club, Royal Exchange Square, Glasgow
Date: Friday 29th January 2016
Time: 7.30am for 8am
The hashtag (#) is one of the most powerful online tools, yet it is one that is very often misused, misunderstood, and often overlooked in our online communications.
Used properly, it can achieve a great deal in getting you and your content noticed and shared with relevant communities.  It is also an easy way to manage promotions and track what is happening across multiple platforms. It can also be a first-class way of gathering information and syndicating content about your brand, product or service.
The January New Media Breakfast will take a close look at hashtagging and how you can harness the power of the hashtag to achieve lots more with the content you are creating.  We will also explore things to consider when choosing an appropriate hashtag and how to establish a hashtag for your business, event, or product. We will also look at choosing which hashtags to follow, and how to tap into popular or trending hashtags in a relevant and fruitful way.
The presentation will also look at some of the tools that can help you to manage your own hashtags and track specific hashtags that are relevant to your business.
So, if you struggle to see the relevance of using hashtags, or you want to find out some tips and tricks for making greater use of them, you should come along to the first New Media Breakfast of 2016.  You can enjoy some knowledge sharing, some good quality networking, not to mention a bacon roll and hot coffee! Hopefully you can make it along, we look forward to seeing you all again and getting 2016 off to a great start.
SPEAKER
The breakfast session will be presented by Gordon White and perhaps other members of the fatBuzz team. You can view Gordon's profile here.
HOW TO BOOK
Venue: 29 Member's Club, Royal Exchange Square, Glasgow
Date: Friday 29th January 2016
Time: 7.30am for 8am
Cost: £10+VAT
BOOK FOR NEW MEDIA BREAKFAST GLASGOW HERE:

If you are a 29 Member you can attend the breakfast free of charge. Please email 
fiona@fatbuzz.com
 with you membership number and she will add you to the attendance list.
We hope you can make it along to this event. If so, I look forward to seeing you on the day.