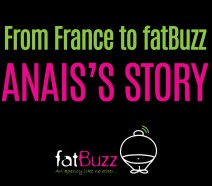 I'm Anaïs a French student. This summer, I completed a 2 month internship as a graphic designer within fatBuzz. In September I'll be starting my 2nd year of Higher
National Diploma in communication at ITEC Boisfleury located in Grenoble, France. Within this course, I learn about communication solutions, graphic design, commercial relations and other important aspects of communications.
During my time at fatBuzz I have had the chance to work on a number of different projects for customers. I worked closely with graphic designer Josephine for print and social media creations. Some of the main projects I worked on daily involved creating new logos for brands, making newsletters, designing the layout of websites and brochures.
With this internship at fatBuzz, I discovered a lot more about role of a graphic designer. This internship has also allowed me to improve my skills on the design software like Photoshop, Illustrator and InDesign. Actually I have new knowledge about graphic design thanks to my role here. I developed a lot of other useful skills too, like how to be a team player. My colleagues have been very warm and welcoming, and they trusted me for my work, which was helpful. Also, I improved my English understanding.
I enjoyed working with this incredible team and discovered the world of work in an other country. That was a beautiful life experience. I'll never forget this internship and this teamwork.
See you soon!