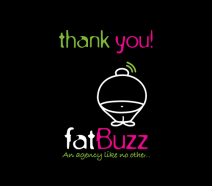 The fatBuzz team would like to say a massive thank you to everyone who donated to the #fatbuzz29 event, and who made the day possible. You helped us raise a whopping £5,291 for Kilbryde Hospice (over £5,600 with gift aid!), which will help them to continue to provide an excellent palliative care service for those in South Lanarkshire.
On the day we managed to visit over 40 of our clients, taking full advantage of the extra day in the year. We could not have asked for a better response from all of you – here are some highlights from the day:
At Mitchells of Inverurie, our bear took his first selfie of the day. He was also one of the first to be named, called Brydie in honour of Kilbryde.
This bear made it all the way to Boston, courtesy of The Booking Room
One bear even managed to sneak in a cheeky lunchtime refreshment at Deoch and Dorus!
The staff at Golden Jubilee Hotel went all out and hosted a teddy bear's picnic to welcome their bear!
Our bears were also given some fantastic names by their donors too. In addition to Brydie the bear at Mitchell's, Dean's decided to call theirs Biscuit in keeping with the tasty treat theme, Carbon named theirs Annie, Alexander and Adam in their 3 respective locations and F3 entertainment called theirs Elvis, keeping the King alive. Brownie points go to Spectrum Service Solutions, for not only taking their bear all the way to South Africa, but for giving their bear an Afrikaans name – Groot Cigter Plaas, which means fatBuzz!
Thank you once again to all our staff, clients and friends who got involved by making a donation, setting a challenge and getting creative for #fatbuzz29. Your support really does mean a lot, and is appreciated by all at fatBuzz and Kilbryde Hospice.