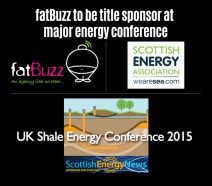 We are delighted to announce fatBuzz is to be the title sponsor of the upcoming 2015 UK Shale Energy Conference in Glasgow.
Taking place at the University of Strathclyde Technology and Innovation Centre on Friday 25th September, this years event marks the first conference to be hosted by the newly branded Scottish Energy Association (SEA), with Scottish Energy News.
With Scotland continuing to cement its place as a leading country within the energy industry for its engineering innovations and renewable sources, this years conference will feature a wide range of experts and industry leaders including Callum McCaig MP; Patrick Harvie MSP; Robert Gatliff of the British Geological Survey; Ken Cronin of UKOOG and many more.
This sponsorship agreement follows the successful branding and launch of SEA (formerly Industrial and Power Association) in June of this year.  The project, executed by fatBuzz, created a huge buzz among industry peers when the new branding was unveiled at a launch event in the University of Strathclyde's state-of-the-art Technology and Innovation Centre.
No stranger to events and what gets people talking, fatBuzz is delighted to be part of a conference which, this year in particular, promises plenty of lively debate.
Gordon White, Managing Director of fatBuzz, commented on the sponsorship: "fatBuzz has a long history of supporting and sponsoring events, we are pleased to continue that as the title sponsor for this years UK Shale Energy Conference.  We are delighted to continue our relationship with SEA in this manner.
We were privileged to be part of the SEA rebrand earlier this year, and we see this sponsorship as an opportunity to be involved with a fast moving industry once again in what promises to be a very rewarding and insightful day for all those attending."
Hector Grant, Chief Executive at the Scottish Energy Association also commented on the sponsorship by saying, "fatBuzz really understood what we were about and how we assist our members in the energy supply chain, the successful rebranding has really brought us to the attention of many more people in the industry. We are delighted that fatBuzz will be supporting SEA at The UK Shale Energy Conference on 25/9/2015 and look forward to benefiting from more innovative marketing and digital media support from them."
You can read further information about the conference here