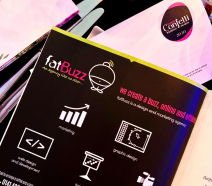 The awards ceremony, which celebrated its 5th consecutive year on January 26th, acknowledges the best businesses within the Scottish wedding industry.
This past weekend, the Crowne Plaza Hotel in Glasgow played host to the Gala Final of the Confetti Wedding Awards, which is now in its 5th year running.
fatBuzz is proud to have been a sponsor and official social media partner since the inception of the awards, and several members of our team were in attendance at this year's Final for a fun-filled night of wining, dining and dancing.
The Confetti Awards is a chance to celebrate the very best that the Scottish wedding industry has to offer. Awards categories included Best Caterer, Best Florist, Best Wedding Venue, Best Wedding Dress Retailer and more. You can find out more about the Awards on the official website.
We were delighted to have been offered a table at the event and everyone had a fantastic time watching the ceremony and enjoying a glamorous Sunday night out. Our Head of Design, Kenny, even took home some prizes from the charity auction, including a zipline experience across the Clyde!
The Confetti Wedding Awards is one of several Scottish awards ceremonies that fatBuzz has sponsored over the last 5 years, and we have helped to provide website design and social media coverage for each.
Coming up in the next few months, we will be sponsoring the Prestige Hotel Awards on the 15th March and the Scottish Entertainment Awards on 29th March, with the Scottish Italian Awards and Home Improvement Awards later in the year.
It's a great privilege to continue our partnership with these events and we look forward to seeing what they have in store in 2020.
Congratulations to this year's Confetti award winners and thank you to the Confetti Awards for a great evening!
---
Keep up to date with everything fatBuzz by subscribing to our newsletter.
Looking to create a buzz about your business? Enquire about our marketing, design, video and web services.