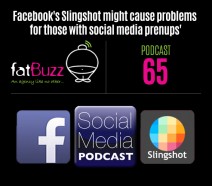 Play the podcast here:
In Social Media Podcast Edition No.65 the fatBuzz team is back for some chat and light hearted banter around the world of social media.  This time we have Gordon White, Graeme Geddes, Cameron Wilson, and Kenny MacMillan. 

Once again, Meilee Anderson has some useful contributions from America and we are grateful to her for keeping us informed about what's happening in the USA.

This podcast was recorded at the height of the first round matches of the World Cup in Brazil, so we take a look at some of the social media and what some people have being doing to tap into the global popularity of the event.  During the conversation we mention a map showing Twitter activity during the USA vs Ghana match, here is that map, it is quite fascinating to watch.
Read the whole Daily Mail article about the USA's interest in this game, and the World Cup in general, in the Daily Mail Article… Here 

There has been a lot going on since the last podcast and we get through lots of other topics, here's some of the things we discuss in No.65 with the links we promise on the podcast.
During the podcast I also refer to a video whilst talking about people's reaction to Facebook's outage which I promised to add a link to, here it is:
We hope you enjoy the podcast, please also share it with your friends and colleagues, you can do so using the share buttons at the top of bottom of this post.

Play the podcast here:
Would you like a presentation on social media and customer service?
We're offering a range of bespoke or generic presentations on the topic of social media and customer service, if you would like to find out more please go to the following link: Are you prepared to lose control?
Have you listened to the digital copyright podcast?
We continue to see people using images, video content and other files taken from the internet without consideration to potential copyright issues. We would encourage all of our listeners to download Social Media Podcast 50 which clearly outlines what you should and shouldn't do with images sourced online. Find it on iTunes now.

WHAT WOULD YOU LIKE US TO TALK ABOUT?
If there is a specific topic you would like us to cover in a future podcast please let us know. You can email gordon@fatbuzz.com or send us a message on Twitter @MediaPodcast or, you can post it as a comment on the Social Media Podcast Facebook page.