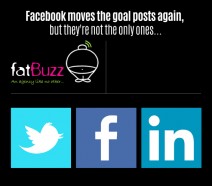 Once again Facebook has tweaked its news feed algorithm  in an attempt to "clean up News Feed spam" by targeting three broad categories of spamming behaviour; like-baiting, frequently posted duplicate content, and spammy links.

Facebook's announcement explains they are keen to ensure the right content is delivered to the right people through the News Feed.  Changes to the algorithm make easier to detect Pages that 'frequently post explicitly asking for Likes, Comments and Shares' which their research found were usually less relevant than stories from Pages that are genuinely trying to encourage engagement with their fans.
Other changes include the better detection of duplicate content posted over and over again, and 'spammy' links that take you to off Facebook to advertising sites.
All in all I think these are good changes that theoretically will improve the content on an individual's News Feed, however I can't help thinking they are also a further move to force Page owners to pay to boost posts to fans.  Facebook say the changes shouldn't affect the majority of Pages, some of which may even see an increase in the distribution of stories. 
I also note the use of the work 'frequently' (6 times) in their statement; this would suggest they are initially focused on the worst offenders rather than Pages that may be hosting an occasional campaign to find new fans.
On the Social Media Podcast (N0.63) we discussed with Meilee Anderson the benefit of competitions and incentives explicitly for existing Page fans to help establish an affinity between the fan and the Page, I don't really see anything in the recent Facebook announcement that would change the conclusions we reached during our chat.
Facebook continually tweaks the algorithm, and we know a new layout for the timeline page is immanent.  This week Twitter launched its new look home pages and on the 14th April LinkedIn is dropping its Products & Services pages in favour of Showcase pages.  All of these platforms will evolve and changes will continue to happen that may or may not suit the user.
I have seen too many businesses that put all of their marketing efforts into social media platforms, particularly Facebook, that now have big problems because the reach of their content has diminished dramatically over the last few months.
It is essential to realise the need to own and control as much as possible.  It is also critical to accept social media is not a replacement for traditional marketing; your social media marketing should complement your other marketing activities – not replace them! 
I spoke in depth at the Edinburgh New Media Breakfast on Thursday about the things to consider when developing a social media strategy and choosing the right tools; I was amazed at the response and the feedback which suggest to me too many people are not developing a clear strategy before they jump into social media.
Among other things, I highlighted the need to identify:
your aims and objectives

the challenges within your business

how it will complement your existing marketing activities

how you will use social media

how you will use specific tools

the best solution for your business model

the target audience – who, where, when?

the essential tools
Part of the presentation explored longevity and how we can take steps to make your social media marketing efforts 'future proof' thus avoiding the problems now being experienced by many businesses that put all their time and effort in Facebook.  These are all things that should be given due consideration before embarking on a social media marketing journey.

If you have found this post interesting please share it with your online community using either the Twitter, Facebook and Share buttons below. Thank You.