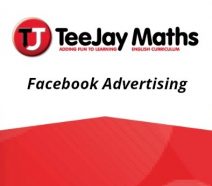 Teejay Maths, a market leader in the supply of Core Maths Textbooks and support materials in Scotland, has achieved an A+ in a recent Facebook advertising campaign. Teejay Maths recently updated their mental maths resources and wanted to capitalise on this by capturing data from those in Scottish primary schools downloading the updated works.
How did we do it?
We designed an advert campaign by fine tuning their target audience, testing the advert composition and copy, before determining a suitable budget and campaign time. This campaign required us to create a separate landing page on the Teejay Maths Scotland website which contained a contact form integrated with their email client. This meant that we could send out an automatic message containing a link to the updated Mental Maths resources, whilst collecting prospective customer's data. Clever eh?
When it comes to Facebook advertising, split testing is key, whether this be by colour, subject line, post copy and more. It allows us better understand the behaviour of prospective customers and what makes them engage with the advert. We tested the adverts based on background colour and book graphic. See below.
What were the results?
Our primary result indicator was the number of complete registrations displayed through Facebook but it's important to note that Facebook offers a variety of insights that can be considered. It was found that the graphic with the red background and book 1A was most effective, allowing us to pause the other adverts and focus the attention and budget of the image that people were most receptive to. At the end of the 3 week campaign, the advert reached a total of 13,884 people – just under double the amount that Facebook suggested, based on audience information – with a total of 543 free resource downloads. Teejay Maths had an additional 400 registrations completed on the website due to the target audience sharing the link. In terms of budget, due to a 10/10 relevance score of the audience/advert, it meant that more people could be reached organically without having to spend the full budget. As a result, Teejay Maths saved over a quarter of their planned advertising budget due to an extremely successful Facebook advertising campaign.
Would you like some help with your Facebook advertising? Pop us an email at hello@fatbuzz.com for some more information.