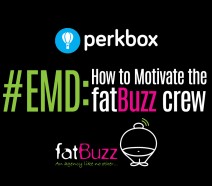 It's the second annual Employee Motivation Day (#EMD), which encourages everyone from managers and directors to apprentices and interns across the country to show appreciation for all the hard work done by everyone in the company. The day celebrates hard work and encourages management to think about motivating, acknowledging and rewarding employees, whilst staff benefit from the contribution each makes to the team.
Although this is celebrated in just one day in this annual campaign, at fatBuzz staff are rewarded and motivated all year round thanks to incentives provided through Perkbox. As no two employees are the same, it's often found that things which may motivate and encourage one employee, won't be effective on another. In order to reward each of our team appropriately and in a way that best suits and motivates them as an individual, we found that a reward with lots of options or variety would best suit the team.
With Perkbox, we are able to choose from a variety of great deals and incentives which are regularly updated all the time. There's something to cater to most interests, from foodies to fashionistas, meaning that everyone in the office is covered. Not only that, Perkbox send out some great treats and rewards regularly just for our continued use of their service. Their delivery of stress balls certainly comes in handy now and again!
In addition to offering many deals and freebies which appeal to a wide range of tastes and interests, Perkbox itself is also really easy to use, which makes it all the more attractive to staff. The fact that the offers are easy to redeem means that staff are likely to take advantage of Perks, again and again – this means it's not a wasted scheme which employees don't actually find rewarding.
Our Marketing Account Executive, Caitlin, agrees: "the best thing is probably that it's really quick and easy to redeem the offers, and you don't need to fill out loads of questions or anything to claim a Perk."
So to mark Employee Motivation Day this year, some of the fatBuzz team share what they have or look forward to enjoying from Perkbox:
Mobile Phone Insurance
One of the most popular perks so far is the free mobile phone insurance on offer from Perkbox. With an office full of social media and tech savvy staff, each highly dependable on their smartphone, it's easy to see why this is popular.
"I took advantage of the free phone insurance, but hope not to use it!" our Web Developer Stuart told us, whereas Director Kyle picked this perk up early and is unfortunately having to use it on his cracked screen already.
Food, Glorious Food
What's better than having a gourmet meal cooked for you at your convenience? Paying just half price for it of course! A free digital Tastecard is just one of the Perks currently available, offering 50% off food bills or 2 for 1 deals at a variety of restaurants across the country.
Marketing Account Executive Kimberley has redeemed her Tastecard, but is yet to use it. "Downloading the Tastecard app took absolutely zero effort, I can't wait to use it in some of my favourite restaurants."
Free Movies
The movie buffs among the team rejoice at the thought of free film. With the Wukai.tv Perk, each of our team can enjoy one free movie per month. With a variety of movies to choose from, and with new titles each month all easily streamed from your device, the team can catch some of the films they missed at the cinema – for free.
Keeping us on the move
Kyle has also signed up to the free breakdown cover on offer at Perkbox, ideal for all of us as breaking down in Scotland in the middle of winter isn't the most pleasant experience! Plus, as the fatBuzz team are frequently out and about visiting clients (roll on our fundraising event on Monday 29th February!) it's a reassuring practical perk.
Discounted purchases
There are loads of discount vouchers and codes available to take advantage of at Perkbox, with many high street and online retailers participating. Kyle, clearly our most prolific Perkbox user, is already intending to use the made.com discount on offer: "I'll be using the £30 made.com discount for buying some new furniture for the flat."
With a variety of perks, both practical and fun appealing to lots of different interests, Perkbox is just one of the ways we encourage our employees to stay motivated whilst thanking them for the hard work done so far. We are always looking for new and inspiring ways to keep the fatBuzz team happy and motivated to ensure our clients get the best possible service from our enthusiastic staff.