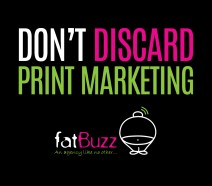 As technology has advanced over the last decade or so, it has become easier for businesses to target customers or clients through digital marketing. Whilst this has many benefits and advantages over print marketing, it's not always favourable to shun the latter in favour of the former.
Digital solutions like social media marketing and email campaigns can prove quick and cost-effective, leading businesses to overlook the more traditional offline methods of marketing. However, there are a number of ways many brands can use offline marketing to complement their digital strategy and create a highly effective campaign which yields great results.
Business cards
The easiest way to market yourself is through business cards. Use a design that fits with your brand and contains the relevant information that will engage people and allow them to contact you. Your business card is essentially your first impression and advert for your business on meeting people. With the right design, this can prove hugely effective in terms of generating leads. Also, don't underestimate the number of people who still prefer to contact a business via telephone with a query, rather than through social media platforms.
Getting physical
For some, a product or service will never seem more trustworthy than in the flesh. You are the best advocate of your product or service, and in addition to business cards, you can use a variety of printed materials to reach people and leave a lasting impression. Whether it's collateral for a popup stand or informational postcards or leaflets you plan to distribute at an event or area, never overlook the power of putting a face to your brand and giving people a resource they can look back on at a later date. Plus, there's much to gain from running any promotional offers and discounts via flyers alongside an online coupon which customers may have to print off in order to claim. For some it may make no difference to their likelihood of claiming, yet most customers are essentially lazy and prefer offers presented to them with an easy-to-claim solution. At fatBuzz we can design a range of printed materials from banners to brochures, to help you effectively market your product in a physical format.
Memorable touches
Once you have a customer base, don't let them disengage. Keep them interested in what you offer with regular contact. Email campaigns are a great way to do this on a more frequent basis but it also pays to add little memorable touches, like a thank you note on letter-headed paper, or a Christmas card reminding customers of your brand and products at a pivotal time of the year. By sending out something personal to your business and memorable to the customer, you can ensure more engagement in your product, which could come to fruition in more sales and a positive reputation online.
The above ways are just some of the things you can do to effectively market your product with printed materials. Alongside great content marketing and social media campaigns, you should be able to easily build and manage a strong and reputable brand that proves accessible to people on all levels.
Don't believe us? Even Facebook are in on the action!
Here's their latest ad campaign (May 2016) running on billboards up and down the country:
You can expect an all-encompassing marketing service from fatBuzz, as we cater to both your digital and print marketing needs. With a growing team of marketers, graphic designers and web developers, we can provide you with a flexible solution, tailored for your business. For more information on the marketing services we offer, give us a call on 0141 427 0727 or email kyle@fatbuzz.com