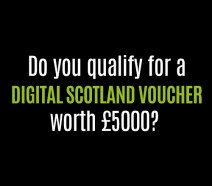 The Digital Voucher Scotland Scheme explained
In recent months, various clients have approached us with queries about a new digital grant being offered across Scotland. But with little information available online, you may be confused as to what exactly it is and whether or not you are eligible to apply.
With a bit of research, we've gathered some information on this mysterious new scheme and see the potential it could bring for startup companies and SME's, interested in growing their business.
The grant, known as the Digital Scotland Voucher Scheme offers up to £5000, contributing towards 75% of your overall project costs. However, as expected, the country-wide scheme, run by Business Gateway involves certain criteria with regards to eligibility.
First of all, your business must be registered and working with a Business Gateway adviser before you can apply for the grant. You must then determine whether or not you fall into one of three company categorisations set out by Business Gateway – a Growth Advisory Service qualifying company, a High Value Startup, or a Potential High Value Startup.
So if you're an SME or startup looking for business growth, improved productivity and/or enhanced e-commerce activity through the use of digital and ICT services, this grant may be particularly useful to you, as it can cover the cost of both consultancy and implementation.
Not only can the voucher be used in this way, but it can also cover the cost of training your staff in these specific areas and the cost of developing software. However it cannot be used for any ongoing business costs, staff costs, pay-per-click advertising costs or likewise, or to pay for hardware/off the shelf software.
The voucher was first introduced in 2014 as a pilot scheme and as it has returned in 2015, we would encourage those interested to get in touch with their local Business Gateway office to discuss your potential eligibility for the grant.
Should you be eligible, we would be happy to discuss the best way for you to grow your business using our various services.
If you would like to discuss what services we provide that qualify under the Digital Scotland Voucher Scheme, please call, Gordon White or Kyle Murdoch on 0141 427 0727, or drop us an email at hello@fatbuzz.com