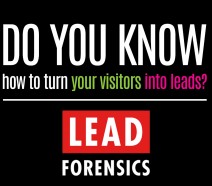 Many of us already utilise software like Google Analytics which can track how much traffic is going to our websites. But what do you really know about that traffic? Wouldn't it be better if you could pinpoint visitors and target them based on their individual behaviours and needs?
One of the biggest obstacles digital marketers face is turning traffic into leads, and then turning those leads into conversions. With little information about the individual visitors to your site, this can be difficult to overcome. However, there are analytics software solutions out there which can help you identify your visitors and market to them accordingly.
A service which we have been working with recently is Lead Forensics. This organisation hosts one of the best tools currently available, allowing you to uncover more information about your anonymous traffic. After coming across this organisation and making use of their free demo, we found their software to be an extremely vital tool in helping us discover who visits our site, and how we can prioritise them as potential leads and conversions.
Some of the things Lead Forensics helps us identify includes:
The identity of our visitors – we can easily find out what organisation they are searching from, business contact details and their location
Page visits – like with most analytics software, we are able to discover what pages visitors have been viewing, and how long for
Intelligent insight – we can also go in depth to find out what people have searched for to find us, how many times they have visited the site, and even their buyer consideration stage
Real time activity – most importantly, we can find out information in real time, at the touch of our fingertips meaning we can harness the most current data
As well as offering us all of this useful information whenever we want to access it, we can also utilise additional tools to prioritise leads, set alerts and much more. For us as a B2B organisation, this kind of software is key in helping us create more conversions from our digital presence.
Pitching Perfectly
One of the main ways Lead Forensics has helped us is by allowing us to tailor client pitches specifically to their needs or the services they are interested in. At fatBuzz, we offer a variety of services from web design and development to social media management, content production and distribution and more. With Lead Forensics, we can easily identify the services that visitors to our site are interested in, and therefore target a pitch appropriately.
Creating Meaningful Content
In addition to helping us pitch to win new business, we can also reach other similar businesses by promoting content or services which are of interest in that field. For example, if we find through Lead Forensics that multiple financial businesses are interested in web design, we can promote these services more readily within this sector. In addition, we can also create engaging blog and social media content based on web design in the financial sector, in order to attract more business in this area.
With all of this useful information to hand, Lead Forensics also allows us get in touch with business visitors via the contact information they hold. It's then up to us to turn their interest into a lead or ideally a conversion. Armed with better information about our potential clients, we can have meaningful conversations which are more likely to generate sales for us.
Our Director, Kyle Murdoch, has found this service vital to fatBuzz: "As a B2B organisation offering multiple services, Lead Forensics is an invaluable tool which gives us clear insight into new leads, and allows us to tailor our proposal to appeal to their needs."
This has worked well for us over the last year, and has definitely helped us generate some new clients through the information available in their software. Even some of our clients have begun to use Lead Forensics, thanks to our praise, and they can't believe the great results they are achieving from this already.
If you would like a free demo of Lead Forensics to see how it works for yourself, click here.