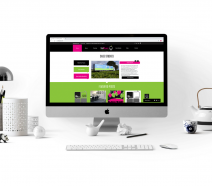 With technology constantly evolving, software updates and advancing algorithms, the digital marketing landscape is always changing and can often leave marketers and business owners chasing to keep up. As we enter into not just a new year but a new decade, being aware of both current and emerging trends is vital if you want to stay ahead of the curve. Here is our list of top digital marketing trends to keep an eye on this year.
Video Marketing
In 2020, video marketing will no longer just be an option for content, it will be expected. With studies showing that 95% of viewers retain information they've seen in a video, compared to 10% who read it, it's a necessity. Videos are also shared on social media 1200% more than images and text combined meaning it's one of the best ways to increase brand awareness.
It's important to note that it's not just the pre-recorded videos that work well, consumers also respond well to live videos as they feel they are being offered a more authentic experience. Whatever form you use, make sure that your content is high quality and meets the needs of each specific platform, for example vertical videos for Instagram and square videos for Facebook.
Here at fatBuzz we have lots of experience creating a range of high quality videos, so if this is something you're interested in, click here to see how we could help.
Interactive Content
Perhaps the biggest digital marketing trend we will see this year will be the rise in popularity of interactive content. Offering consumers a more immersive experience, consider elements such as polls, 360 degree videos, quizzes and interactive maps. Not only will incorporating these make your content more unique, it also makes it much more engaging and memorable.
Micro-Influencer Marketing
This year we continue to see major brands shift away from using high profile celebrities to endorse their product or service in favour of smaller influencers with more of a niche following. With consumers consistently citing credible recommendations as a reason for them to buy into a brand, businesses can benefit from the relationship and trust that smaller influencers have built up with their followers.
Many micro-influencers will also have particular area of interest, such as food or fashion, so your business can specifically search out influencers that align with your key USPs. It's far more important to focus on the engagement rate of the post, rather than the number of account followers.
Artificial Intelligence (AI)
Over the past few years, Artificial Intelligence (AI) has been growing in popularity and is expected to make quite the impact on how businesses reach their consumers in 2020. One of the key benefits of adopting AI into your marketing plan is that by analysing consumer behaviour, search patterns and data from social media platforms, it can give you a better understanding of your consumers in a fraction of the time it would take to do it manually.
AI can also allow you to interact directly with your consumers in real time, through the use of chatbots, which can help them to quickly find solutions to their problems or directly influence buying decisions.
Personalisation
One of the most effective ways to stand out in 2020 and to build brand loyalty is to create marketing content that is personalised to suit your individual customers. This is one of the key predictions outlined in January's New Media Breakfast, and something that larger businesses have been implementing for a while.
For example, Spotify provides listeners with 'Spotify unwrapped' every December and Cadbury created a personalised video campaign that matched a Dairy Milk flavour with users based on data from their Facebook data which generated a 65% click-through rate.
With advances in AI, creating personalised campaigns will become much easier for smaller businesses in 2020 resulting in more engagement and a higher visitor to customer conversion rate.
---
If you're looking to boost your marketing efforts this year but aren't sure where to start, get in touch with us for an informal chat about how we can create a buzz around your brand.