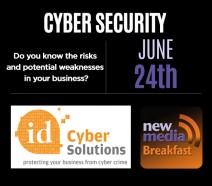 Cyber Security
Do you know the risks and potential weaknesses in your business?
DATE: 24th June 2016
TIME: 7.30am for 8am
VENUE: 29, 29 Royal Exchange Square, Glasgow
Without doubt, one of the biggest threats to any business today is cyber crime; on a daily basis we hear about serious instances where businesses have become victim to online crime – and those are only the ones that are reported!
In a BBC report on 8th May 2016, they state that as many as two-thirds of big UK businesses have been hit by a cyber attack in the last year.  Most of these attacks involved viruses, spyware or malware, the Cyber Security Breaches Survey says.  The survey also suggested that seven out of ten attacks could have been prevented, and added that only one-fifth of businesses understands the dangers of sharing information with third parties.
However, it's not just big businesses that are under attack, indeed every internet-linked business is a clear target and evidence suggests that smaller businesses are increasingly the victims of such crime.
The June New Media Breakfast is delighted to welcome along Cary Hendricks and Ian Kerr, from ID Cyber Solutions, experts in Cyber Security.  Under the heading '4 Hacks in 10 Minutes", they will explain the issues of unsecured data and how people are the most vulnerable part of an organisation.  This highlights the very issue that everyone needs training, not just security/IT staff.
It is a truly an eye-opening look at just how exposed your business might be to a cyber attack and where the weaknesses often occur.  They will also offer expert advice about the steps required to minimise your exposure to this particularly costly and damaging form of crime.
THE SPEAKERS
Ian Kerr is the founder and Managing Director, ID Cyber Solutions and has 25 years experience in brand protection and Cyber Education.  Through ID Cyber Solutions, Ian has built a team of experts who advise businesses, and business executives, about the dangers of Cyber Crime and how to protect themselves and their businesses against the increasing threats posed by the internet. – See more at: http://www.newmediabreakfast.co.uk/glasgow-june-2016/#sthash.SULevFtO.dpuf
Cary Hendricks, Global Operations Director, ID Cyber Solutions has worked as a Digital Crime Instructor for the Dutch Police Academy before entering the world of consulting and training.  Cary recently delivered a Keynote speech at InfoSecurity Denmark, a session that proved to be amongst the most popular at the event.
We are privileged and delighted to have ID Cyber Solutions at the New Media Breakfast for what is certainly going to be a popular topic, so to be sure of a place, please book your place as soon as possible.
WHO SHOULD ATTEND?
Cyber Security is critical to every organisation; large or small, B2B, B2C, Public Sector and Third Sector, any internet-linked organisation is a potential target of cyber crime.  And, it's not just those in security and It that need to know the threats, it is essential for every member of staff to have some awareness of cyber crime. The New Media Breakfast is open to anyone, however we would suggest if your are operating in IT, Finance, HR, eCommerce, Data Gathering, Social Media, Design & Marketing etc.  this is a session you should not miss.
PLEASE SHARE
If you know anyone who may benefit from the Cyber Security New Media Breakfast presentations please share the details with them. Thank you.
HOW TO BOOK
Venue: 29, 29 Royal Exchange Square, Glasgow
Date: Thursday 24th June 2016
Time: 7.30am for 8am
Cost: £10 +VAT
BOOK FOR NEW MEDIA BREAKFAST GLASGOW HERE:
If you are a 29 Member you can attend the breakfast free of charge. Please email 
fiona@fatbuzz.com
 with you membership number and she will add you to the attendance list.
We hope you can make it along to this event. If so, I look forward to seeing you on the day.
If you have found this post interesting please share it with your online community using either the Twitter, Facebook and Share buttons below. Thank You.