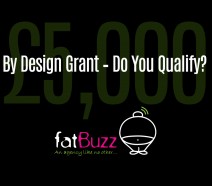 We have recently been made aware of a new grant from Scottish Enterprise which can contribute up to £5,000 towards helping you design new processes, products or services for your business. The By Design grant is an exciting tool which could help you rebrand, conduct vital market research or even launch a brand new product or service.
This grant could provide the helping hand you need to effectively market your product. Like most grants however, there are some restrictions on applications. For instance, you'll need to be able to supply at least 25% of the overall cost of the project, up front, in order to be eligible for the grant. New businesses not yet trading are welcome to apply, but you must be VAT registered.
fatBuzz Services you can use the grant for
You can use part of the funding towards designing and development of a website. However, the website must be part of a larger project, such as becoming an ecommerce business, and the costs allocated for this web development cannot make up any more than 10% of the overall grant amount.
You can also use the grant to rebrand or repackage. Again, this updated branding must be part of a larger overall project and the rebrand must not make up the whole of the project.
We can also help you design new specialist services to improve engagement and usage, such as customer newsletters, HMTL email designs and client only areas on your website.
Terms of the grant
If you're looking to apply, you'll need to be able to demonstrate the benefits of this project on your business, as well as explain the ways in which the grant will meet your aim of taking the product to market. You'll also need to be a VAT registered Scottish business in order to be eligible to receive between £2,000 and £5,000 from this grant.
Rules state you can't spend the cash on staff recruitment or associated recruitment costs, and you can't work with any other businesses or collaborators from outside the UK. However you can put the grant towards expert advice and design consultancy.
For more information on the fatBuzz services you can utilise with the grant, get in touch by giving Gordon White or Kyle Murdoch a call today on 0141 or email hello@fatbuzz.com.