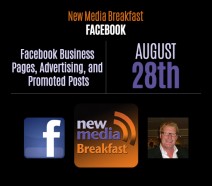 FACEBOOK BUSINESS PAGES, ADVERTISING AND PROMOTED POSTS
Exploring how to make the most of Facebook for your business, and how to get the most from Facebook advertising
DATE: 28th August 2015
VENUE: 29, Royal Exchange Square, Glasgow
It's no secret that obtaining organic reach on Facebook is becoming more and more challenging.  There are very well documented reasons for this, and everything now points towards promoted posts to try to get your content in front of those who have even already liked your Facebook page.
However, there are ways to extend the organic reach of your page and to increase engagement with existing followers, and also to find some new ones along the way.  At the August New Media Breakfast, we will explore some of the things you can do to achieve greater organic reach.
FACEBOOK PROMOTED POSTS AND ADVERTISING
All content creators should now accept that paying to boost your posts is something you may have to consider in the future, and that Facebook advertising is an effective way to extend the reach of your content and find new and relevant followers.  It is therefore important to know the full power of these tools and to ensure you are getting the full value from them.
At the breakfast we will highlight some of the many powerful features available to you via Facebook Advertising and Facebook Promoted Posts. Many people are using paid advertising on Facebook, however in our experience, many people are investing money without really utilising the features that will increase your chances of success by reaching your target market.  The breakfast will help you to understand what is achievable and hopefully enable you to use Facebook Advertising and Promoted Posts to much greater effect in the future.
THE SPEAKER
The breakfast session will be presented by Gordon White and perhaps other members of the fatBuzz team.
You can view Gordon's profile here.
HOW TO BOOK
Venue: 29 Member's Club, Royal Exchange Square, Glasgow
Date: Friday 28th August 2015
Time: 7.30am for 8am
Cost: £10 +VAT
BOOK FOR NEW MEDIA BREAKFAST GLASGOW HERE:

If you are a 29 Member you can attend the breakfast free of charge. Please email 
fiona@fatbuzz.com
 with you membership number and she will add you to the attendance list.
We hope you can make it along to this event. If so, I look forward to seeing you on the day.