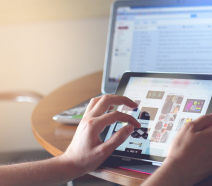 Here's a little round up of some of August's industry news…
Instagram hoax
A fake Instagram post has been shared across the social channel claiming that Instagram is introducing a new rule to its privacy policy. The post claims that Instagram would be able to use user's photos in court cases in litigation against them. It also states that photos and even messages that have been deleted will become public. Famous actors and musicians including Pink, Julie Roberts and Usher are among those who fell for the hoax and helped to spread the misinformation which also suggests that by sharing the post, the updated rules would not apply to you.
Head of Instagram, Adam Mosseri responsed to the hoax with a message on his own Instagram Story and Twitter account dismissing the rumours. He wrote: "Heads up! If you're seeing a meme claiming that Instagram is changing its rules tomorrow, it's not true." Other Instagram employees including Stephanie Otway, Brand Communications Manager, also argued "There's no truth to this post."
Instagram's real terms and conditions are available on the company's website.
Bombay Sapphire $20m campaign
Gin brand Bombay Sapphire has launched their latest $20m aesthetic campaign, 'Discover The Possibilities Within', which is part of a global push to stand out from the gin crowd as it shows off its creative side. Rather than featuring actors in the 30-second advert, Bombay Sapphire has instead featured a team of real-life visual artists, including glass sculptor Amber Cowan, paper artist Maud Vantours, and designer GMUNK, who each create their interpretation of Bombay Sapphire using raw materials of Bombay Sapphire's iconic blue bottle. Bombay Sapphie has also commissioned a partnership between Global Street Art (GSA) and Hypebeast to create and release four mural across London, Manchester, Brighton and Edinburgh.
New Facebook privacy feature
Have you ever been browsing a website for shoes, for example, and then you open your Facebook app only to coincidentally see an advert for the exact pair of shoes you were looking at? This is because Facebook collects information that users enter into websites and apps, and tracks which websites users visit whilst they aren't on Facebook.
However, Facebook has launched its new 'Off-Facebook Activity' feature which allows users to see what information is has collected about their online activity whilst outside of Facebook and disconnect that data from their accounts if desired. The 'Off-Facebook Activity' features comes as part of the network's attempt to give users more control over their data following the data breach scandal last year.
The new feature is currently only available to people in Ireland, South Korea and Spain; Facebook say that they will 'continue to roll it out everywhere over the coming months to help ensure it's working reliably for everyone'.
Twitter Data news
At the beginning of the month, Twitter announced that it may have accidentally shared some user data with third parties after finding a problem with how it obeys user privacy settings. Twitter shared the news via a company blog post, which stated that if users clicked or viewed an advert for a mobile app since May 2018 and interacted with the mobile app, they may have shared certain data such as your country code and if and when you engaged with the ad.
The micro-blogging platform also apologised for the mistake in the blog post:
Despite Twitter's apology and having fixed the problem, the Irish Data Protection Commission (Twitter's data supervisor in Europe) has confirmed that it is had received a breach notification from Twitter and was "assessing the information provided."
Doritos remove brand logo
Doritos are dropping its tagline, 'For the Bold' and its recognisable triangular logo as part of a new ad campaign to specifically attract a younger audience and an 'advertising adverse' generation. The 'Another Level' campaign launch is Doritos' largest digital campaign for brand equity and it's hoped that fans recognise the classic crisp bag colours, the crisp-shaped icon and other notable attributes like cheese dust. Doritos has removed all logo and brand mentions from their social content, including previous content, and Doritos.com has even been replaced with thelogogoeshere.com. Fans can also 'triangle themselves' with a Snapchat filter. One of the reasons for targeting an 8 to 22 year-old audience is because they are more familiar with ad-free experiences like Netflix, so brands must find new ways to appeal to them.
Would you recognise this is Doritos?