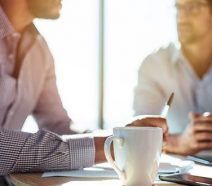 Gordon, Managing Director at fatBuzz tells us about his own experience of LinkedIn and why spending as little as 10-15 minutes each week building relationships with connections, is a little step to take to create a big impact.
Yesterday, I made a seven-hour round trip to visit a prospective client, this is something that's not uncommon for me.
The meeting was arranged following an enquiry from a company that found us after a search for 'outsourced marketing services'. Their initial enquiry was followed-up with a quick phone call during which I established that we have very relevant experience in their sector, so I suggested we meet for a chat over coffee. Following yesterday's three hour thirty-minute drive, I enjoyed a two-hour chat – and a coffee.
I could have spent longer on the initial call. It's even possible that I could have got to the proposal stage without a meeting, but it was important for me to invest the time and make the trip.
Firstly, I wanted to demonstrate that location is not an issue, so arriving at their offices to speak to them face-to-face helped to reinforce the point. Secondly, I wanted to develop the relationship, see the business first-hand and meet the people behind it. This way, I could get a clear understanding of what they need, and to let them meet me and appreciate who I am and what my business can do for them.
All in all, I believe it was a good and worthwhile day, but only time will tell.
I know many business people who will understand and agree with all of this and most of them, given similar circumstances, would do the same thing, however most of them will also tell me they don't have time to invest in content creation or mastering LinkedIn.
They are happy to invite people to connect and to accept invitations to connect, but little else. If this is the extent of their activity, I am quick to advise them to stop wasting time and forget LinkedIn altogether and buy a Rolodex.
For all the same reasons as making a speculative seven-hour round trip, it is critical to invest time with your existing and potential connections on LinkedIn. Too many people are happy to invite others to connect without even personalising the invitation, or simply accept connection requests and do nothing. If this is all they do, what do they expect is going to happen? It's simple – nothing.
When I accept a request I immediately send a message inviting my new connection to look at my connections and see if there are any introductions I could possibly help them with and I also invite them to attend our New Media Breakfast as my guest. Finally, I suggest that we might grab a coffee at some point in the future.
The one thing I never do is try to sell them anything; it's about nurturing the relationship and letting them get to know me. It's about investing some time to create and share content that they may useful or interesting. Essentially, it's about enabling them to get to know me and appreciate what I do.
Contrary to popular belief, it doesn't require lots of time, it's more about regularly investing a small amount of time. In fact, the time I invest is a lot less per month than the seven-hour road trip I made yesterday!
Admittedly, I did make a couple of phone calls, caught up on some good quality podcasts and found some 'thinking' time, so the drive time was also quite productive. Similarly, when I spend time engaging with connections I am learning from them, so the time I invest online is productive in more ways than one.
As a simple exercise, find 10-15 minutes a day for one week to engage with new and existing connections; like, share and comment on their posts, endorse them for a skill or send them a recommendation, you'll be surprised how quickly you start to appreciate the value and power of the platform.
Perhaps in the second week you can arrange to meet one connection for coffee? If so, you will truly be moving that relationship to the next level. All you need to do is start connecting with your connections.
Interestingly, the idea for this article came to me during yesterday's road trip, I hope you have found it interesting. If so, you can make a start now by sharing it with your connections!