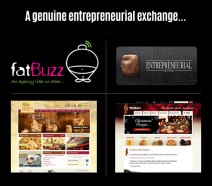 I attended the annual Entrepreneurial Exchange Awards Dinner at the Hilton Hotel in Glasgow on Thursday evening; as usual this was a first class affair with lots of opportunity to catch up with old friends, meet some new ones and generally be inspired by the stories told throughout the evening.

I've been going to this event for years and, even through the recent economic downturn, I've always come away rejuvenated and encouraged by the fellow members. And, contrary to some beliefs, it's not about people selling out for millions, it's about everyday people in Scotland building businesses of scale, creating employment and contributing greatly to the Scottish economy.

The member's businesses are diverse. At my table was John Boyle who built and sold Direct Holidays and now runs Hamilton Portfolio, an investment company that supports many entrepreneurial business in Scotland. Next to John was William Frame of Breamore Estates who was enthusing about his latest business venture – Cromars, a traditional fish and chip shop in St Andrews! Beside William was one of this year's Entrepreneur of the Year finalists, Wayne Godfrey from Browns Food Group who own and operate over a dozen well known food brands throughout the UK.

But, this is what it's really all about…
Sitting immediately on my left was Tamlin Roberts from Mercurytide, a business providing services very similar to that of fatBuzz – in most circumstances people will view us as competitors but, as fellow members of the Entrepreneurial Exchange neither of us do. In fact, we had a very interesting and open discussion about our respective businesses, the clients we work with and the industry in general.

Even more remarkable was the fact that on almost the same day that fatBuzz launched the new Dean's Shortbread web site and eCommerce store Mercurytide launch the new web site and eCommerce store for Walkers Shortbread! So there we were, two people operating businesses offering similar services, working with the two main players in the shortbread industry.



I found it refreshing to be able to enjoy dinner with Tamlin and to share experiences with each other, I know the evening was beneficial to me for that single experience. Here's what Tamlin had to say about our time together, "FatBuzz has really helped businesses get hold of the Social Media world and like us are passionate about ensuring our customers are highly successful in their respective industries. It was funny to think that we were working on similar projects for similar clients at the same time".

I also took part in a video interview with Lord Willie Haughey and the interviewer asked about the value of Entrepreneurial Exchange membership and I immediately recalled an event some years ago that summed up the value for me.

I was scheduled to visit Walmart in Bentonville, a business well know to Lord Haughey. As a fellow Exchange member, I called to see if he could provide any pointers and without hesitation he said come straight over as he had a spare half hour. Fours later I left his office with my pitch tweaked and fully briefed on what to expect. The subsequent trip resulted in an order for $250,000+ which was in no small way due to the advice he gave me.

I would recommend Entrepreneurial Exchange membership to anybody who is genuinely interested in sharing knowledge and helping fellow members, even if they are "competitors".