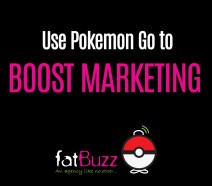 Men, women and children have all gone crazy for the latest free game: Pokemon Go. Anyone who's anyone with a smartphone is taking part in this phenomenon, wandering around catching imaginary creatures. Whatever you think of this craze, there are a number of ways local businesses can use this to their advantage in terms of marketing. Here are some tips to engage with this phenomenon, even if you don't know your Pikachus from Pokeballs:
1. Draw people in with the promise of Pokemon
This only works if you actually have some Pokemon in or outside of your business, otherwise you may get reported for false advertising! If you are lucky enough to have a Pikachu or Squirtle hovering in or around your premises, don't fight the stampede of Pokemon hunters – embrace them instead.
Even better, if you can capture a Pokemon on camera within your premises, this is the ideal content to share on social media. It will require you or one of your colleagues downloading and actually using the app, but by giving people proof of Pokemon life at your premises, you could find yourself with a bunch of potential customers outside very soon.
2. Let people know if there's a stop or a gym nearby
Players are always on the hunt for Pokestops to refill on some Pokeballs or other rare items like eggs, potions and razzberrys. And in gyms, players can battle each other to become the best, so if you're lucky enough to have either of these in or around your premises, you can capitalise on footfall. Shout it from the social media rooftops if your restaurant or bar is a Pokestop, and you'll soon find people wandering in to pick up Pokemon items, as well as making a purchase on your premises.
Similarly, you can promote your business if these things are simply nearby. For instance, telling people they can come in for a refreshment to take a break from all that gym battling.
3. Run a promotion or special offer based on Pokemon Go
If there are Pokemon in or around your premises, you can create a promotion catering to those who play the game and catch the Pokemon. For instance, if you know there's a Pidgey always present in your café, you could offer Pokemon players a half price drink for showing a photo of their catch in your store.
You can still take part in this if your business doesn't have anything nearby, simply by getting Pokemon savvy. You could offer a discount on purchases for players who show off a rare Pokemon such as Mew, Mr Mime or Ditto if they have managed to catch one.
4. Get your staff involved
The best way to encourage engagement is by getting your staff to participate. If they are already fans of the game, encourage them to share photos and tips on your social media accounts. Or additionally, your staff could offer tips on the likes of a food bill in a restaurant as an added customer service gesture.
5. Throw a lure
Lures do what they say on the tin – they lure Pokemon to your location for a set time. They require time and cash resources on your part, but can be a good investment if you shout about it.
Lure modules are in-app purchases which can be bought with Pokemon currency. The currency itself comes at a price of 79p per bundle of 100 coins (currently better than the Euro exchange rate), with a bigger discount for purchasing larger quantities such as £3.99 for 550 coins or £14.99 of 2,500 coins.
Lures cost 100 coins each or you can purchase 8 for 680 coins. Each lure lasts half an hour from when you drop it, and once you've done this anyone playing the game can come and catch Pokemon within your lure area. By using Lures to create an event, you could have a Pokemon party at your café or store, declaring the lure time and any special Pokemon themed offers or discounts during this period.
These are just some of the ways you can use the Pokemon Go phenomenon to your advantage whilst the craze is still hot. There are also loads of other great ways to engage people online and offline using Pokemon Go, such as hosting competitions and via email marketing. For more information on how you can use the latest trends to your marketing advantage, please get in touch via hello@fatbuzz.com or give us a call on 0141 427 0727