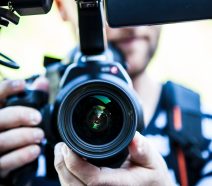 "Video Marketing" is one of the hottest buzzwords in the marketing industry, and of course, we know why.  Having the right kind of video marketing strategy is a crucial part of any digital marketing campaign as it is proven to boost engagement and even sales. 
According to Hubspot, 81% of businesses use video as a marketing tool and 80% of people would rather watch live video from a brand than read a blog. 
Here are our 3 top videos you need to promote your brand:  
Product Videos
Product videos show your product's features and benefits and often include examples of how it works, all while engaging your audience. They're particularly beneficial for consumers who are in the consideration stages of interest and need a clear explanation of what your business offers. This is an excellent way to humanise your business, put a face to a name of your employees and gain trust from your audience. According to Hubspot, where both video and text are available on the same page, 72% of people would rather use video to learn about a product or service.
We can help you create this in different styles according to your brand guidelines and audience through:  
Animation
Tutorial
Direct informing to camera
Client Testimonials
Video testimonials allow you to connect with your audience on a stronger and more personal level. Not only are customer/client testimonial videos a powerful way to boost your credibility, but they also increase conversions, humanise your brand and really communicate your strengths from people who have experienced what you have to offer. 
When it comes to all businesses – large and small – the success of the business depends heavily on word of mouth. Testimonials are formal forms of expression that support that concept, especially if they are genuine, and heartfelt and compelling. 
Company Story Videos
Behind every business is an interesting story about how it came to be. Naturally, people like to do business with brand they know and trust. That's why video about your background is the perfect way to tell your story to build a personal type of relationship with your audience and, in turn, help them invest interest in your background and brand values. 

Whether you're watching videos via your desktop or mobile browser, video marketing is fundamental and an extremely responsive way of communicating with your audience and user friendly. However, with the increasing popularity of mobile browsing, it's important to consider the different formatting of videos that will help create maximum engagement. 
Have you yet to utilise video in your content marketing strategy? At fatBuzz, our in-house video production team can provide an all-encompassing video service, tailored to your needs. Why don't you get in touch?