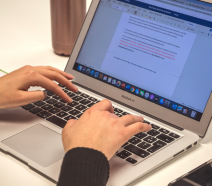 With all of fatBuzz working from home throughout lockdown, we've been learning a lot about our business, our team and ourselves.
As you probably know already, fatBuzz has been operating remotely since the beginning of the COVID-19 public lockdown, with our entire team working from what we jokingly described as "25 new offices".
Now, as the lockdown looks to be easing in Scotland, we thought we'd take a look back at our experience as a company over the past 4 months. For those of us not used to working from home, this time has allowed us to reflect on our working habits and take forward important lessons.
From the importance of regular team comms, to the benefits of having a four-legged co-worker, here's everything we've learned throughout lockdown:
Communication is Key
Working from home took some adjustment in the first few weeks. Forward planning was needed to ensure that everyone was set up on our various cloud-based systems (like Dropbox and Microsoft Sharepoint) and had access to a webcam for daily team calls and client meetings via Zoom.
The real challenge was changing communication habits – a quick question to a co-worker was no longer as easy as walking over to their desk for a chat. Everyone in the team has had to make sure they are contactable at all times and that our daily catch-up calls are used to discuss any issues we were having with our setup or particular tasks.
The new system certainly works; we're still meeting daily over video and working jointly on projects with ease across all departments. At a time like this, we're definitely thankful for all the apps and cloud-based systems that have made instant communication possible!
Feeling at Home in Your Workspace
Once settled into the "new normal" of remote working, many of us found that we needed to improve our workspace and daily habits to ensure decent productivity. Unlike in an office, no two people will have the same kind of space, so everyone needs an optimal setup.
Sometimes, productivity comes simply from feeling comfortable, regardless of surroundings; whether it's sitting at a desk with a PC or using a laptop on a bed, kitchen table or out in the garden. The start of lockdown was all about finding the space that created the best working environment.
Of course, it's difficult to enjoy sitting in the exact same place after 4 months of spending 90(ish) percent of each day at home, so a few of us have occasionally changed up our workspaces. But for the most part, everyone has found they can not only create a comfortable space to work at home, but that we can be just as productive as we would in the office.
The Pros and Cons
Getting to look after the pets and have some animal companionship when things get stressful? Pro.
Having to take video calls in the bedroom because your flatmate or partner is also on a call? Con.
Working from home has its challenges, like noisy neighbours, not enough space, TV and other potential distractions. Being able to 'switch off' after work can also be tricky, meaning you really have to really make sure to separate work life from home life.
However, being at home means being away from an environment of clicking keyboards, neighbouring offices and ringing phones, which can sometimes feel hectic and distracting. Not having to commute is also a plus!
There will always be negatives and positives to any way of working, but what's been important has been adapting the best we can to remote working as a necessity during such an unprecedented time.
The Social Side
Finally, working from home has helped us really appreciate the value of daily interaction with our colleagues, both during and outside of work hours. Having small talk and "water cooler" conversations among the team is such an important part of the office dynamic, so thankfully this has stayed strong during our daily catch up calls – we all need a way to discuss our latest Netflix binges, after all!
We've also found ways of keeping up regular social events to blow off some steam at the end of the week, such as holding quizzes over Zoom and having an office book club meeting every few weeks.
---
It's certainly been an unusual 4 months, but thanks to good communication and the new habits we've developed as a team, we've been able to stay productive and provide the best quality of service we can for clients, just as we would from the fatBuzz office.
With more businesses returning to regular operation as the Coronavirus lockdown begins to ease, now is the time to begin thinking about how you can resume trading and attracting new customers. If you're in need of digital marketing, video production, graphic design or web design, fatBuzz can provide a comprehensive service that will help get you back on your feet.
Get in touch with us today at hello@fatbuzz.com to see how our team could help.