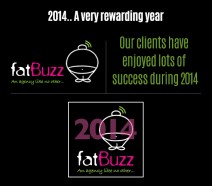 It's been another momentous year for fatBuzz and thanks to all of our clients for keeping us very busy for the whole of 2014, including this week!
It has also been a great year for many of our clients with many of them reporting increased turnover and profits. This is also reflected by the number of awards they've been winning. Here's a quick summary of the successes some of our client have enjoyed recently.
Carbon Financial Partners have enjoyed lots of success during the recent awards season in the financial sector culminating achieving a Gold Standard Award.  To achieve a Gold Standard Award, companies have to complete a rigorous questionnaire designed to assess progress in five pillars – financial strength, capability, service, fair value and trust.  It was particularly pleasing to them as this is the second successive year they have won the award.
Paul Gibson, one of Carbon's financial planners also featured as a winner at the Money Management Financial Planner of the Year Awards, and  Carbon were also named among the Best of the Best in the Institute of Financial Planning's Accredited Financial Planning Firm of the Year.
Carbon are also shortlisted in the Professional Adviser Awards 2015, the winner will be announced in February and we hope to bring you some more good news then.
Curtis Moore enjoyed success by winning in the best vertical cladding/rainscreen category at the NFRC Scottish Roofing Contractor of the Year Awards 2014 for their work on Haymarket Station in Edinburgh.  Congratulations to the team there and we hope to bring you news of more awards for Curtis Moore in 2015.
Estate Life celebrated a milestone, it's been 10 years since founder Joanna Goddard first advised an estate about diversification. They have come a long way since then, this year Estate Life provided the keynote speaker at the Country House Business Innovation Show in London and have already been booked for the same event next year!
A notable addition to their client portfolio was Strathallan Castle, the venue for the 2015 T in the Park.
We look forward to working with Joanna, Susan and the rest of the team next year.
Excel Vending were over the moon to be featured at the National Vending Industry Awards in Manchester back in June. Tricia Connelly picked up the Vending Supervisor of the Year award sponsored by Douwe Egberts.
It was fitting that this award also came in the year that Excel came of age, they were celebrating their 21st year in business which in itself is a massive achievement, we look forward to working with them again in 2015.
It's been and very busy year for Dean's, not only have they completely refurbished their bistro and visitor store, they have successfully launched their online store and expanded their oversees sales.  All of this completed while achieving and Investors in People Bronze Award.
We also look forward to working with Dean's during their 40th anniversary celebrations in 2015.
La Favorita Delivered were successful at the Scottish Italian Awards, an event that fatBuzz are proud to sponsor.  They picked up the coveted Best Pizza Award 2014.  They were also shortlisted in the prestigious PAPA Awards in London.  We're sure they will be featuring in many more awards ceremonies as they expand into Glasgow with the opening of a new store in Gibson Street, Glasgow.
Congratulations also go to Mitchells in Inverurie who picked up two awards at the Scottish Grocer Awards 2014; Sustainable Retailer of the Year and Health Promoting Retailer of the Year.
We also congratulate Managing Director, Keith Whyte on becoming Chairman of the Grampian Food Forum, we wish him well with his appointment.
It was also an exciting year for Nick Cohen and his team at PCR Business, they sold a stake in the business to Abica Telecoms Group.
Nick described the transaction as a "match made in heaven" saying that it lets his business retain its own identity while enjoying the benefits of being part of Abica, with which it shares many clients. We look forward to working with PCR Business as these exciting developments unfold.

Nick Cohen was also a finalist in two important awards; Glasgow Inspiring City Awards, Contribution by a Young Entrepreneur, and WeDoScotland, Young Entrepreneur of the Year.
Porrelli Ice Cream enjoyed success at this year's ROCCO Awards, they won the Best Family Business 2014, a fitting reward for all of their hard work and the excellent products they create.  Perhaps more fittingly though because they will be holders of the award during 2015 – their 90th year in business.  It's a true milestone and we look forward to working with them during this important part of their history.


It's also worth mentioning another business celebrating a milestone anniversary this year, Saks Hair Salons celebrated their 40th year in business, congratulations on a great achievement.  Saks did it in style with a huge presence at the Clothes Show Live.  We look forward to working with Saks in 2015 as they start their journey towards the big 50!


The ROCCO Awards was also a successful event for Spectrum Service Solutions, they were shortlisted in four categories and won the Excellence in Customer Service 2014 award. They were also nominated for two awards in The Herald Family Business Awards where they were commended again for Excellence in Customer Service.

But, Spectrum's biggest achievements of the year happened away from the awards ceremonies, after handling the cleaning and waste management for the biggest global sporting event of the year, they went on to do the same for the Ryder Cup at Gleneagles. All this while expanding the core business into new sectors and completing many other special events along the way.
Young & Partners was recommended in the Legal Directories for licensing and commercial dispute resolution and their team made great inroads on social media with one particular blog post attracting an amazing 21,000+ readers!
We've enjoyed working with them through the year and watching their online journey progress with some great results, but we're sure there's even better to come next year!

Of course, business is not just about winning awards, much as it is nice to be rewarded for your hard work.  Real business success is rewarded by growth and profits and many of our clients have grown this year, we congratulate all of them and we truly appreciate working with each and every one of you.

Finally, the team at fatBuzz would like to wish every member of every client team a very happy Christmas and a prosperous new year, we look forward to serving you in 2015.