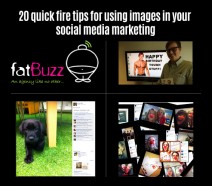 Recently we held our monthly New Media Breakfasts, in 29 Glasgow and Tigerlily Edinburgh to discuss the power of images and how the can be used in your social media marketing strategy.
Images have always played a huge role in social media, and with the rising user numbers on platforms like Facebook, Instagram and Pinterest, their popularity has increased greatly.
Because images are so prominent in the way we communicate today, whether it be with family, friends or clients, it's important that you know how to use them properly. At the end of the recent presentations we offered 20 quickfire tips
for using images in your social media marketing, we thought it might be useful to share these on the blog.
1. Think Square
The branding you're working with may not always suit the square format that most platforms use for profile pictures. It's best to come up with a square version so that it's much easier and clearer to see, especially when used in the small square icon image on many social media platforms. See John Dick & Son's Facebook page.
2. Work with animals and children
Posting photos of animals and children always get fantastic engagement, and have a positive effect on people. Here is the first day that Buzz came to the fatBuzz office, just look at the engagement we achieved on this picture!

3. Get up close
When using images on eCommerce sites or platforms promoting your products such as clothing, make sure you have high quality close up shots, so whoever's viewing your product can get a good feel for the quality of the product. See how John Smedley have done this here. You'd be unlikely to pay £120 for a shirt if you weren't sure about the material, but there close up images let you see it up close.

4. Go behind the scenes
People love to see what's going on behind the scenes, because let's face it, everyone's a little nosey! Often, behind the scenes images at an event get more engagement that the official pictures of the event.

5. Be charitable
If you're doing work with charity be sure to document it. Not only are you showing that you're giving back, but you're also raising awareness of the charity. Too see an example of this, have a look at John Dick & Son at Here Come The Girls – Princess Royal Trust for Carers 2011.

6. Office life
Similar to the point we made about going behind the scenes, people love to see what's happening behind the brand. Sharing pictures of what's happening in the office is a way of humanising the organisation. See what's happening at the fatBuzz office here.

7. Road trips
Turn a boring road trip into an engaging adventure. We recently posted a short AudioBoo podcast to iTunes, Facebook and Twitter from the car. We asked people to guess our destination with the help of a few pictures posted on Instagram and Facebook using the hashtag #RoadTrip. We managed to engage in online conversation with almost 30 different people – turning a 3 hour journey into something productive by letting people know what we were up to.

8. Don't underestimate the 'selfie'
Every customer or client can take or share a selfie. In fact, 51% of the UK population have already done it according to a recent survey! Try to incentivise them to take a selfie that includes your product, premises or event.

9. Utilise the technology
Hashtags are important for driving social media engagement, and are the main method of search on platforms like Intsagram, Twitter and Pinterest. So make sure you are using the correct hashtags so that you can widen your audience.

10. Before and after
Before and after pictures are a fantastic way to promote a service that you offer. Whether it be interior design, personal training or a cosmetic product, people love to the see the before shot and the finished article. Lustre Pure Light have utilised before and after images very well. You can view them here.

11. Use the tools of your trade
Spectrum Service Solutions has a fairly large cleaning division and they generate engagement through a fantasy love affair using a Henry Hoover who has been swept off his feet by a Hetty Hoover – explore their Facebook page to see what they've done.

12. Product comparisons
If you have multiple products to offer, post a photo of them and ask people to choose which they prefer. Excel Vending use these images very well, and have event used these images for market research. To view them click here.

13. Cover all bases
Make sure you are uploading your images to as many platforms as possible to get the most coverage. It's not all about Facebook, Twitter, Instagram etc. Have you considered YouTube, Vimeo or Animoto? Below is a video of how the The Beardmore Hotel and Conference Centre used their photo album to create a video on Animoto then embed it via Vimeo to their web site.
14. Make your branding interactive
Utilise your branding to major events happening around the world. We have our logo, known as 'Vince', prepared for all the major events happening like the World Cup, Wimbledon, Valentine's Day, Christmas and so on. You can see what he's been up to on our Facebook page.

15. Certificates and awards
Are you successful? Let people know! Share the success of your awards and accreditations, and make sure your audience knows how good you are.

16. Think Big
Many people are under the impression that images need to be reduced in size to up load to social media sites. Images of 1600px wide will upload, and view full size, on Facebook.

17. Your events or those you attend
Share pictures of the events you are holding or are attending. Show people you are active in the industry and are always looking to build your knowledge.


18. It's about engaging content.
You're not trying to win the National Geographic's Gold Medal Award for Photography. Don't think that you need the best quality images to post on social media. Many of the images you see on your news feed will have most likely come from a phone – it's about content!

19. Talk about your clients
Let your audience know what your clients are up to. Share their success stories, birthdays, anniversaries, new mascots. Many companies are afraid to reveal who they work with, but in reality it's pretty much impossible to stop them finding out anyway. So, seize the initiative and show your clients that you're prod to work for them.

Below are some screen shots of images we have used to talk about our clients, usually when we are in their offices, or when we come across their products.


20. Become transparent
Don't be afraid to inject some fun, expose your personality, and deliver transparency.



We hope this post triggers some inspiration for you and helps you to create some more engagement for your business. If it does, please tell us about it, we like to know when we've helped to put someone in the picture!

If you have found this post interesting please share it with your online community using either the Twitter, Facebook and Share buttons below. Thank You.