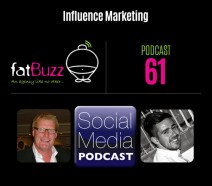 Social Media Podcast No.61 is a slightly different format from our usual podcast but we think it's something you'll find interesting and useful for your social media marketing.

Regular listeners will know that fatBuzz conduct a monthly New Media Breakfast in Glasgow and Edinburgh, Scotland.  Each month we have around 120 people attending the breakfasts on various topics to do with new media and the most recent of these was about Influence Marketing.

We thought this was such an important topic that we would share the presentation as a podcast with the Social Media Podcast listeners, we hope you enjoy it.

THE TOPIC
As the volume of content increases on social media channels, the ability to reach your target audience will become increasingly difficult.  One way to address this challenge is to implement an influence marketing strategy whereby you utilise key people of influence in and around your business.

The podcast explores a range of ways that you may go about attracting key influencers, and even how you can make yourself a key person of influence.  Here are some of the things discussed by Gordon White and Derek Howie during the podcast:
Who are potential key people of influence?

How do you attract influencers?

Should you pay influencers?

Knowing what will influence your customers

How do you measure a person's online influence?

How do you become a key influencer?
We don't intend to do this for all of the breakfast presentations but we will do it periodically when we think the topic and the presentation suits a podcast format.  Please take a minute to let us know if you like it.

Play the podcast here:


Would you like a presentation on social media and customer service?
We're offering a range of bespoke or generic presentations on the topic of social media and customer service, if you would like to find out more please go to the following link: Are you prepared to lose control?
Have you listened to the digital copyright podcast?
We continue to see people using images, video content and other files taken from the internet without consideration to potential copyright issues. We would encourage all of our listeners to download Social Media Podcast 50 which clearly outlines what you should and shouldn't do with images sourced online. Find it on iTunes now.

WHAT WOULD YOU LIKE US TO TALK ABOUT?
If there is a specific topic you would like us to cover in a future podcast please let us know. You can email gordon@fatbuzz.com or send us a message on Twitter @MediaPodcast or, you can post it as a comment on the Social Media Podcast Facebook page.


If you have found this post interesting please share it with your on-line community using either the Twitter, Facebook and Share buttons below. Thank You.