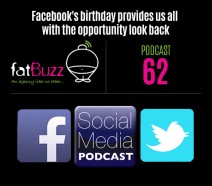 The recording of this podcast coincided with Gordon's birthday which was on the same week as Facebook's 10th birthday so there was a party atmosphere in the office and during the recording.

It was also the same day as the opening ceremony of the Winter Olympics in Sochi, and the week Twitter's latest financial figures were released so there was lots to talk about.

Here are some of the things we discussed during the recording:
Facebook's 10th birthday and the 'Look Back' video promotion

Facebook's diminishing page reach and the effectiveness of boosting posts

A new report suggesting 50% of children under 10 are using social media tools

The recent 'Necking' craze – Good or bad?

Personal branding and employability

The Super Bowl – Advertising review and a look at what JC Penney did to muscle in on the party

Trademarking hashtags – Is it worth doing?

Has the Twitter bubble burst, or has it simply found it's level? 

The Winter Olympics – Why are the big brands taking all the flack?
We hope you enjoy the podcast, please also share it with your friends and colleagues, you can do so using the share buttons at the top of bottom of this post.


Play the podcast here:


Would you like a presentation on social media and customer service?
We're offering a range of bespoke or generic presentations on the topic of social media and customer service, if you would like to find out more please go to the following link: Are you prepared to lose control?
Have you listened to the digital copyright podcast?
We continue to see people using images, video content and other files taken from the internet without consideration to potential copyright issues. We would encourage all of our listeners to download Social Media Podcast 50 which clearly outlines what you should and shouldn't do with images sourced online. Find it on iTunes now.

WHAT WOULD YOU LIKE US TO TALK ABOUT?
If there is a specific topic you would like us to cover in a future podcast please let us know. You can email gordon@fatbuzz.com or send us a message on Twitter @MediaPodcast or, you can post it as a comment on the Social Media Podcast Facebook page.