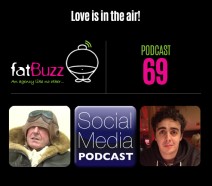 In Social Media Podcast 69, Gordon is joined by Kyle and introduces the latest member of fatBuzz Liam Cutkelvin in this Valentines inspired "Love edition". Fear not, this isn't all about romance…this episode is all about the social media campaigns that we loved from last year.
We discuss the our favourite campaigns in social media from last year, including the Ice Bucket Challenge which took the internet by storm last year and raised millions for charity across the globe.
We also share our thoughts on the #NoMakeUpSelfie craze which swept social media and how it has had many positive aspects outside of its fundraising achievements. It is a terrific example of how a viral campaign can educate some social media users about how social media actually works.
This podcast also marks a change in format. We outline what we plan for the future and discuss recent topics and news from in and around social media.
Here are some of the things we discuss:
The Ice Bucket Challenge – What we loved and the positives we can take from it
#NoMakeUpSelfie – Educating the masses
#fatBuzzlovesyou – Our Valentines red noses from last year
Curtis Moore Christmas video – The benefits of having some fun on Social Media
Superbowl XLIX – Officially the biggest on twitter, what we remember from it on social media and how brands are linking in with the event
Gordon's social media challenge
Twitter introduces instant timeline – Is this a positive move?
Twitter CEO Dick Costolo admits the platform isn't great dealing with trolls – Is there a real way to tackle this issue within social media?
The need to gather data and are you really building a direct relationship with your consumers on platforms like Facebook?
If you have something you would like to discuss, or you would like to join us on a future podcast, please email Liam Cutkelvin at liam@fatbuzz.com We are always looking for interesting content and news, so please share any relevant info with us so that we can share it with the Social Media Podcast audience.
Play the podcast here: