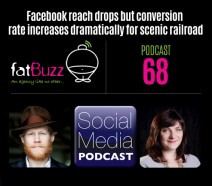 Play the podcast here:


In Social Media Podcast 68, Gordon White talks to Meilee Anderson, Marketing Director at Mt. Rainier Scenic Railroad in Washington USA. Meilee was kind enough to share the recent success the organisation has enjoyed with Facebook.  Meilee explains that whilst the reach has dropped considerably, the conversion rate has increased massively. With a spend of around $4000 they have seen revenue increase by tens of 1000's of dollars in the past year.
We start the conversation with a chat about the recent Ice Bucket Challenge which swept the internet and raised millions for charity, then we explore some of the activities on Facebook which have resulted in such a noticeable return on the comparatively small investment. Meilee shares details of which posts work best, and how she monitors the activity in order to fully engage with the community on the page. Here are some of the things we discuss:
The Ice Bucket Challenge – The hidden positives in the campaign
Facebook reach drops but the conversion rate increases
Key people of influence – Why it is important to engage with influential people
Facebook Insights – That value in studying your insights
Facebook engagement – Which type of posts work best
Click Baiting – Facebook's recent announcement about tracking the value of links
Facebook links – The recent advice issued by Facebook about the best way to share links in status updates
Split testing – Change things one at a time
Instagram and making full use of the hashtags
Twitter – Experiments with Twitter advertising
Facebook Ads vs Promoted posts
LinkedIn – Why it's more than just a B2B platform
Getting board level buy-in for social media expenditure
Visit Mt. Rainier Scenic Railroad
Website
Play the podcast here:


Some music to finish…
Rosalie by Jarrod Dickenson
We finish the podcast with some music from Jarrod Dickenson, the American singer/songwriter based in New York. Jarrod kindly allowed us to share one of the tracks from his most recent album, The Lonesome Traveler. The track we chose is Rosalie, we hope you enjoy it.
The Lonesome Traveler and Jarrod's other albums are available from his own web site (Visit Jarrod's website), or on iTunes (Click here for The Lonesome Traveler on iTunes)
Like Jarrod Dickenson on Facebook
Visit Jarrod Dickenson's web site
Visit Jarrod Dickenson's YouTube Channel
Would you like a presentation on social media and customer service?
We're offering a range of bespoke or generic presentations on the topic of social media and customer service, if you would like to find out more please go to the following link: Are you prepared to lose control?

Have you listened to the digital copyright podcast?
We continue to see people using images, video content and other files taken from the internet without consideration to potential copyright issues. We would encourage all of our listeners to download Social Media Podcast 50 which clearly outlines what you should and shouldn't do with images sourced online. Find it on iTunes now.

WHAT WOULD YOU LIKE US TO TALK ABOUT?
If there is a specific topic you would like us to cover in a future podcast please let us know. You can email gordon@fatbuzz.com or send us a message on Twitter @MediaPodcast or, you can post it as a comment on the Social Media Podcast Facebook page.